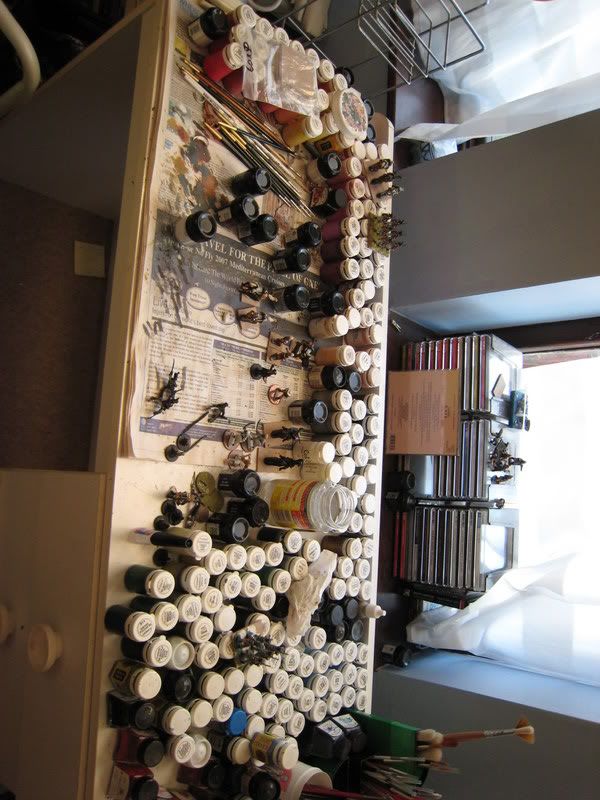 ...and a photo of my very untidy painting desk! I was thinking last night about what I want to work on this year. First up is the Napoleonic Dutch-Belgian light cavalry brigade I mentioned in my first post (below are a couple of work-in-progress pictures - all 25mm Perry Miniatures figures). There are 44 cavalry to be completed, of which I've finished 15! Plus I need to do a command vignette of Napoleon and his cronies. That will occupy the majority of time until the end of April (I will be in New Zealand for the whole of March).
On the AWI front, I have been working through a rather large leadpile (at the end of 2005 I was convinced that Foundry was about to go bust, so I stockpiled loads of figures!) that will see the 4th Foot, 15th Foot, 63rd Foot and various as yet untitled American units finished. I also want to finish a large Woodland Indians sub-project that I began last summer, working through all the figures currently produced by Perry and Conquest: 39 have been finished, leaving a further 45 to do. I am painting these primarily to refight the battle of Oriskany at some stage but also with a view to some French & Indian War skirmish games. I don't really need so many Indians, but they are great fun to do.
Other units I want to fit in are the British 17th Light Dragoons, the American 3rd Dragoons, a second battalion of British grenadiers, more Hessians and the British regiments that fought in the Saratoga campaign of 1778 (which wore their own modified campaign uniform). Phew! Next up for photos on the blog are more Iroquois, the 14th Massachusetts, some American riflemen and that rather special Perry pack, AW100....