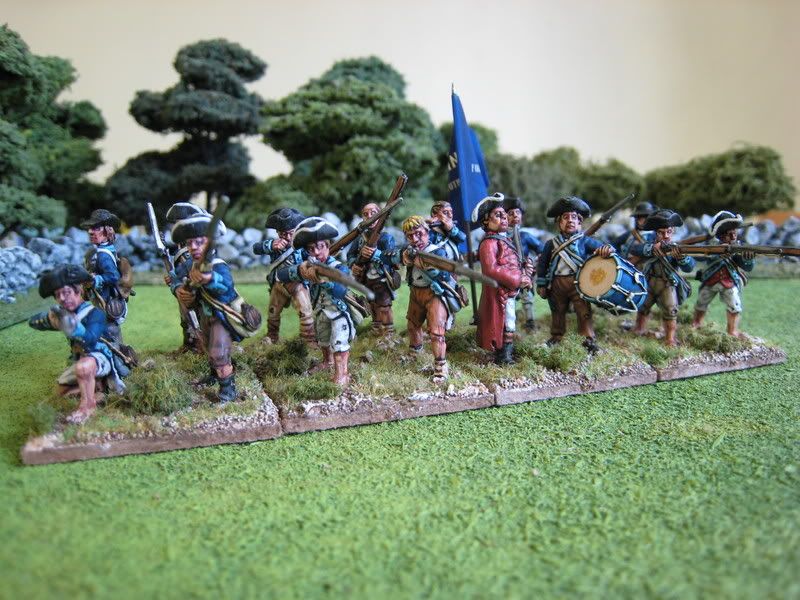 It is important to state at the beginning that the issue as to what uniforms were worn by American troops in the AWI is a historical minefield. In short, no one really knows. Much of the information about what certain regiments wore is taken from deserter descriptions and so may well be inaccurate or not representative of regiment as a whole. Uniforms also changed during the course of the war, dyes faded and varied from batch to batch and captured British uniforms were also employed. Some regiments would have been made up of companies that were probably each uniformed differently. Add consistent problems of supply and the only certainty is that the Continental Army, at least before the reforms of 1779, was not uniformed in a consistent or efficient manner.
It is therefore important to appreciate that 100% accuracy in modelling American troops is almost impossible to attain. For aesthetic reasons, I think that a certain amount of uniformity within a regiment is desirable but the large variety of figures currently available allows for units to be built which do not look as "uniform" as British regulars. The approach I have adopted with the Americans is to see whether the sources suggest that a particular uniform was worn and then "rough" the figures up a little with different coloured waistcoats and breeches. The Foundry and Perry ranges give you American troops in full uniform coat, shortened-down coat (in the Foundry "uniformed militia" packs), civilian clothes and hunting shirt, while Eureka Miniatures offer a range of battered-looking, "ragged" men. These ranges between them allow for plenty of variety.
So for this representation of the 2nd Virginia regiment, I have kept the figures in dark-blue faced light-blue coats and ensured the rest of the clothes are pretty grubby. The figures are all from Eureka Miniatures' "ragged Continentals" range, which shows the troops as they would have looked after a year or two in the field, desperately short of proper clothing and shoes but still determined to see off the British. Painted December 2006. 16 figures. Flag, bearing the legend "Virginia for Constitutional Liberty", by GMB.