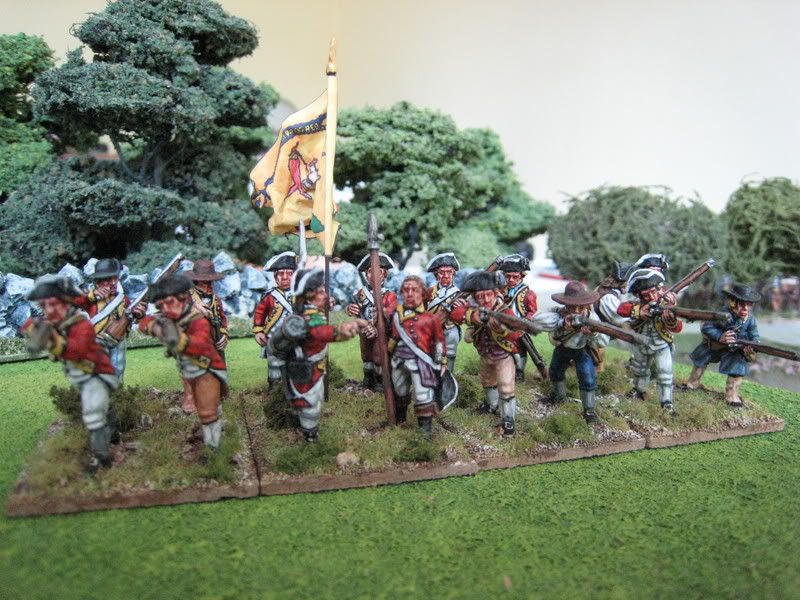 Colonel Samuel Webb's Additional Continental Regiment was raised in January 1777 and served as such until 1780 when it became the 9th Connecticut Regiment. It was subsequently merged with the 2nd Connecticut Regiment the following year. Sources suggest a uniform of red coats faced yellow. This is modelled as an early war, slightly ragged unit, consisting mainly of Foundry "uniformed militia" figures with a couple of minutemen in civvies. The pointing NCO wears the green epaulette of a corporal.
We know something about the flags that this unit is thought to have carried. There are references to two colours used by the regiment. The first, the "Grand subdivision" flag, is a yellow field with a green wreath and red ribbon attached to a silver sword, under which is a black Roman numeral "I". This flag may have been carried by the regiment's first company. The second, shown here, is a more elaborate affair. According to Richardson's "Standards and Colours of the American Revolution": "This elaborate flag depicts a brown-haired, white skinned Indian maiden, "America", robed in a light-red, classical style gown with a blue belt. In classic style, one breast is exposed. She wears gold bracelets and armlets and a headdress of upright red, green, white and blue feathers. One hand supports a spiral-wrapped pole which is topped with a black cavalier-style Liberty hat. From the pole streams a swallow-tailed pennant of seven red and six white stripes. In her other hand is a horizontally outstretched sword with a blue blade and gold hilt. A gold-studded, round shield is clasped to the arm which holds the flagpole. Standing below the sword, is an alert-looking brownish-tan lion with an upright swishing tail. Lying on the ground, in front of the lion, is the severed head of a bald-headed king pierced through the temple by an arrow. Green grass and plants lightly cover the ground, which is now a nondescript gray with a red undercoat. Europeans often depicted America in the figure of a woman dressed like an Indian. Here she displays the liberty cap, 'American flag,' and a sword used to decapitate an enemy." The motto, "in Meridiem Progred Etc" may mean "advance beyond high noon", a Cromwellian reference.
Painted February 2006. 16 figures. Flag by Flag Dude (from TM Terrain).