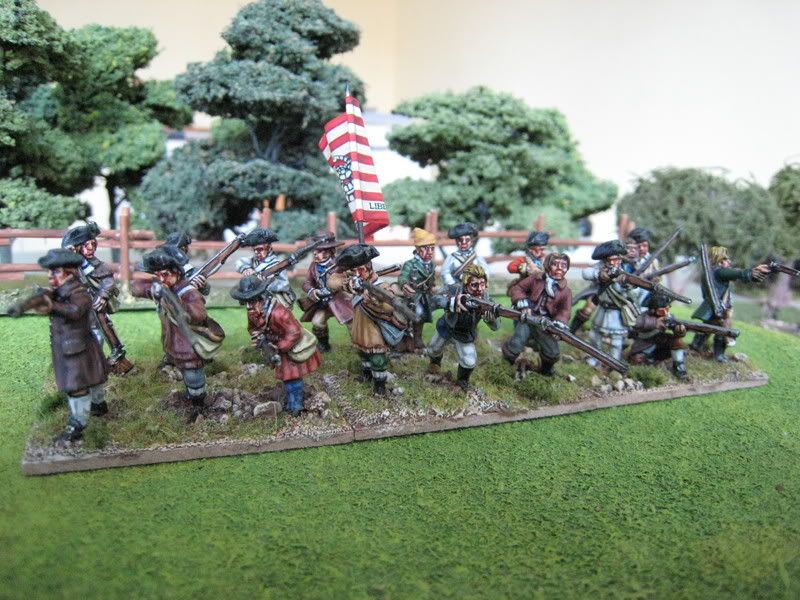 I commented recently that if I was starting the period from scratch something I would do differently would be my first couple of militia units. These are a bit of a mess and not a huge amount of thought went in to them, partly because I was selling my flat at the time and I had to paint in quick 10 minutes snatches in between viewings! That said, I find it can be tricky to ensure that militia don't look a mess, because by definition they won't all be wearing the same uniform. This is the second I painted and uses a wide mix of figures. The figures are mainly in civilian clothes or hunting shirts and there are a couple in shortened uniform coats. One figure wears a red faced buff coat which I took from a picture of the Boston Independent Company of Cadets in 1772, in the second volume of Osprey's "Colonial American Troops (1610-1774)".
In addition to Foundry "minutemen", there are Perry Continentals in hunting shirts, Foundry "uniformed militia" and figures from West Wind's "Headless Horseman" range. As someone once pointed out, these West Wind figures are "more regency than revolutionary", with their long tail coats and rather strange cravats, but they are at least wearing civilians clothes and that's what matters. The standard bearer is a converted West Wind figure - he was carrying a flaming torch in his left hand, but I cut it off and fiddled around a bit to give him an open hand to which I could attach a standard; he looks as if he's about to run away. No one as yet seems to make militia "command" figures as such, so some improvisation is necessary, unless one just uses suitable figures in hunting shirts (which I think look fine).
Painted June 2004. 18 figures. Flag by GMB.