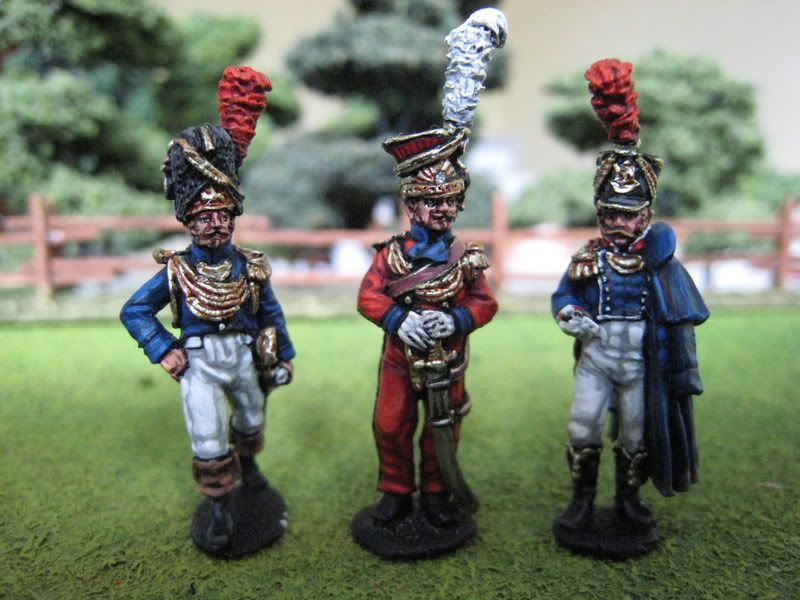 It's about a week to go until Salute 2007 and the figures still have a little way to go. Over Easter I polished off Napoleon's Chasseur escort (below left) and some more "hangers-on" (left), alongside continual work on the Dutch 6th Hussars (below right). Whilst researching the uniforms for the hangers-on I realised that they are all Guard officers, so these figures, together with the other generals etc I have painted, can double up as a Guard command group. Left to do for the hussars are 3 horses and 6 riders, which I should be able to complete in good time. Also on the workbench are a couple of mounted Imperial Orderlies which I hope to have floating around the table, if I manage to finish them in time. The key stuff has to be fully varnished and based by next Thursday, when Loughton Strike Force are having a dress-rehearsal. The Dutch hussars are in various stages of basing and include 6 volunteer light dragoons in the rear rank.
Napoleon and his chums are still not based but I think I have finally decided on how to base them. There will be a large 200mm x 250mm base with Napoleon, his escort, his personal household and Ney, Drouot etc. Behind that will be two 100mm x 100mm bases containing the aides, adjoints and hangers-on. If there is not enough room on the table those smaller bases can be dispensed with, although when I set all the figures up the other day it looked impressive and seemed a decent representation of a busy army headquarters. I suspect I may have to take a day off work next week to do the basing!
It has been fun painting 25mm Napoleonics, although painting all the horses for the cavalry has at times seemed a bit of a chore (Richard Jackson has painted almost 100 cavalry for this game - I take my hat off to him!). Assuming everything gets finished, my final Napoleonic tally for the Salute game will be: 44 cavalry, 35 foot, 5 casualties, Napoleon's horse and 2 tables. Throwing in the various AWI bits I worked on in January (when I'd run out of Napoleonics and was awaiting the next order from the Perries), gives a total of 49 mounted and 54 foot painted since Christmas, which isn't too bad given that I lost 4 weeks whilst out in New Zealand.