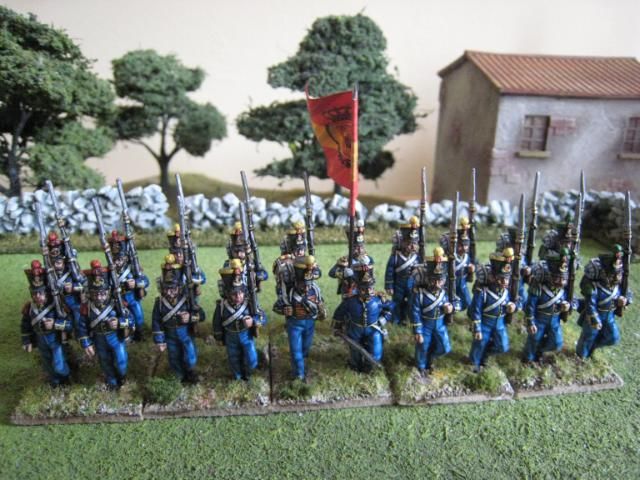 In addition to the regular army and provincial militia, the Isabelino cause could call upon units of urban militia, or "urbanos", which from 1835 were called the "National Guard" and then from 1838 the "National Militia". These units were raised in towns and cities and were mainly used locally to defend their home areas from Carlist incursions. At the beginning of the war some units were used in the field to make up for a lack of regualr army units. National militia also acted as a sort of political police, preventing Carlist support from fermenting and dealing with local trouble-makers.
I chose the Zaragoza Militia simply because an Adolfo Ramos flagis available for this unit. The province of Zaragoza (or Saragossa in English) is in north-eastern Spain, part of the old Kingdom of Aragon. Its capital, the city of the same name, is known to modern military history as the victim of a brutal siege by French forces in the Napoleonic wars. The national militia's uniform seems to have been pretty similar to that of regular army line infantry, but with yellow piping and facings and sky-blue trousers. It is also possible that there were local variations. The organisation of companies also seems to have followed the regular army - so with flank and centre companies (unlike the provincial militia, the national militia's flank companies were not detached). I followed the illustration of the Madrid militia in the Perry/Cairns book and used figures in the older uniform. The blue trousers were painted with the Foundry "Bavarian Cornflower Blue 73" palette. The National militia were the first armed units to carry the red and yellow flag, which was adopted by the army generally and Spain itself in the 1840s. This reflects the militia's status as armed liberal paramilitaries rather than troops descended from the old Bourbon army.
As stated above, the national militia tended to see action in the field at times when sufficient regular army units were not available. For that reason I think I only need one national militia unit in my Isabelino army. It can double up as provincial militia if required. This now gives me 8 Isabelino infantry regiments, plus 3 units of BAL. I need to do some light infantry and skirmishers and then turn to the cavalry. Immediate next FCW plans are to finish a BAL infantry battalion and then either some BAL lancers or more greatcoated infantry.
20 figures. Painted December 2009. Flag by Adolfo Ramos.