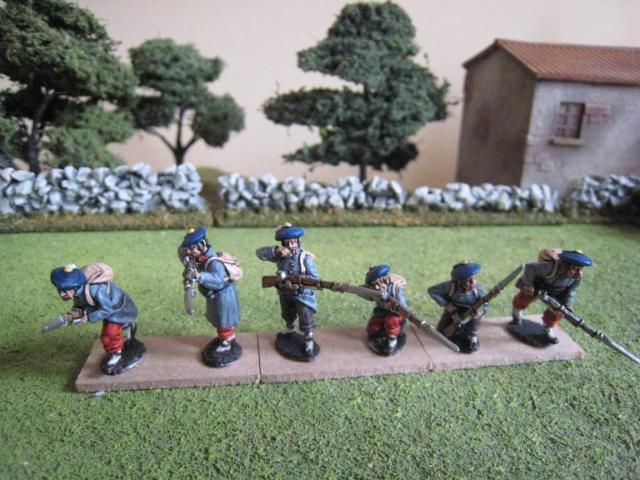 A happy new year to all readers. Today is the third anniversary of this blog and may I also say a big "thank you" to everyone who reads, comments, and emails - as I know is the case with other bloggers, the interaction that comes from internet activity is very part of the fun and the reason why bloggers do this. I've learnt much from the information people have provided here and it is much appreciated. 2009 was certainly a busy year for many of the bloggers whose sites I visit - new arrivals for Stokes and Dinium as well as myself.
I believe it is customary at this stage in the year to do a round up of the year's painting. I've been very pleased with how the First Carlist War collection has come along since I started in April. The Sudan faded rather once the FCW kicked in, but I've enjoyed returning to the AWI at various times and working on the English Civil War gave me some useful painting experience in a couple of areas (I still haven't posted the artillery and command stuff I've painted). Next year will bring more of the same, I expect, only in smaller quantities. I suspect there will be more of a focus on AWI, given the forthcoming French and other goodies from Perry and some nice titbits from Eureka. Naps are unlikely to return in the forseeable future, and the First Crusade and ECW will remain projects to turn to as the desire grabs me (which it will). I don't believe in New Year's Resolutions (although I did manage to give up alcohol for a whole 2 weeks several years ago), but cutting down on the leadpile is one I will be taking seriously, given the impact a baby and non-earning wife will have on one's cash-flow. Already the ECW, FCW, First Crusade and Sudan have a "no new figures until all the ones you have are painted" rule in force (which I've managed to stick to), and I may have to do the same with the AWI.
AWI: 138 infantry.
FCW: 218 infantry; 3 guns; 1 mule.
ECW: 90 infantry; 3 cavalry; 2 guns.
Sudan: 20 infantry.
French Naps: 16 infantry.
First Crusade: 24 infantry; 3 cavalry.
Counting guns as "1" and cavalry as "2", that gives me 524 pieces. This works out at 10.9 figures per week which is just under my weekly target of 12, but that is perhaps excused by a month-long wedding and honeymoon and a lot of Hugo-time recently. I'm sure next year's tally will be much smaller!
The wip photos show the von Linsing grenadier battalion for the AWI, which is now finished, and the first Carlist troops for the FCW. On the workbench at the moment is a third British Auxiliary Legion battalion for the FCW, a Royal Marines rocket troop and some more AWI Hessians.