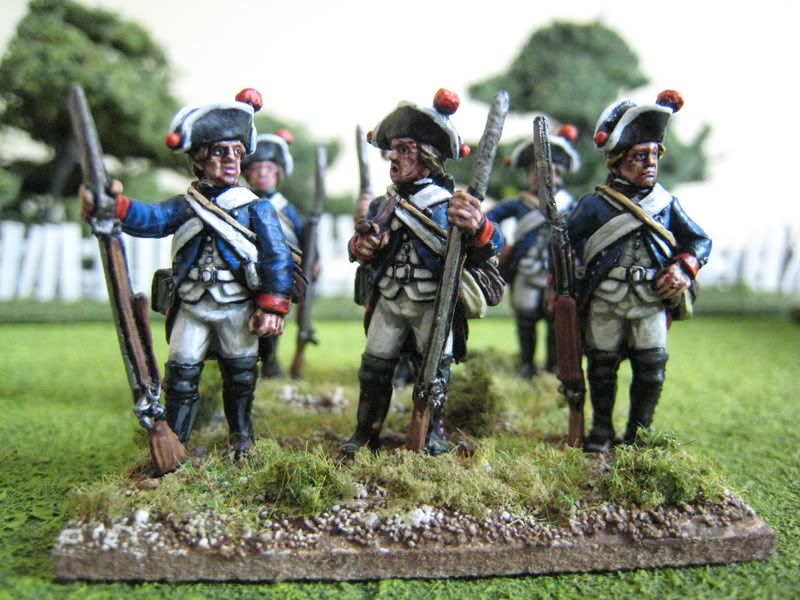 For reasons I can't quite fathom, my painting output has slowed down over the past couple of weeks. I have slipped behind my 12 figures a week standard and the 4th Foot, which should have been finished by the end of May, is still 6 figures away from completion. Two long weekends were lost to a trip to Turin (alas, the Risorgimento Museum was closed for renovation) and a particularly arduous New World wine tasting in London (those Californians sure know how to make cabernet sauvignon; shame it's so expensive over here). I have also turned my attention to the Perry Sudan range as a bit of an antidote to my recent Napoleonic excesses - the first fruits of this project can be seen below. The American Civil War is also beckoning, a period I have long wanted to investigate. Anyway, my Kiwi chums over on the Kapiti Fusiliers forum run a monthly painting target system called "The Pledge" and I have committed myself to painting the 21st Foot, 4 guns and crews, the Perry Stockbridge Indian pack and a couple of the new ammunition carts by the end of June. Golly.

Times remain good for AWI enthusiasts. Alan Perry's 25mm range seems to have been rejuvenated and new packs are being released with the Perries' customary alacrity. I am currently waiting for the new 3-pounders and ammunition carts to arrive. Next up we are promised "amusettes" for Hessian jaeger and the Queen's Rangers - a sort of AWI equivalent of Napoleonic Swedish Guardsmen or Volksturm bicycle couriers. Front Rank have recently released a new 40mm line, starting with British regulars in Royal Warrant dress. I can see the attraction of 40mm for collecting or skirmish games, but for me it's a scale too far. One of the joys of wargaming the AWI is that the battles are of a size that is quite easily recreated on the tabletop and readily lend themselves to 25mm treatment with a generous figure to soldier ratio. Furthermore, the figures available in 25mm combine to make ths AWI in this scale one of the most complete ranges avaliable for any period.

A trio of new books have recently come to my attention. "George III: America's Last King" by Jeremy Black was published in November last year as part of the reliable Yale English Monarchs series. I have not had a chance to read it yet but a quick perusal shows that, as the title suggests, the book seems to concentrate on George as a political figurehead rather than providing an analysis of his private life and character (for which Christopher Hibbert's "George III" remains an excellent read). "Patriot Battles: How the War of Independence Was Fought" by Michael Stevenson also looks interesting; it was published by HarperCollins in April. Lastly, from an online remaindered book service called Postcript Books (
www.psbooks.co.uk
), I picked up a history of liberal thought in the 18th century called "Nobody's Perfect", by Annabel Patterson (also published by Yale). This is clearly a weighty read, being an account of how "Whig" ideas developed in English society, but contains some interesting information. Looking up references to the AWI, for example, told me that Sir Joshua Reynolds announced his firm belief that the Americans would (and deserved to) win the war by betting with his friends that he would never be asked to paint the portrait of a captured George Washington.
The photo above shows fusiliers from the Hessian von Buenau Garrison Regiment. These are Perry figures I painted last November and it will prbably be a while before I complete the unit. Below, just for fun, are pictures of some Beja tribesmen from the Perry Sudan Wars range, clearly a long way from their desert home. These were painted the week after the Salute show in April this year. Later this week I will post some pics of the Rall Grenadier Regiment and British light infantry.