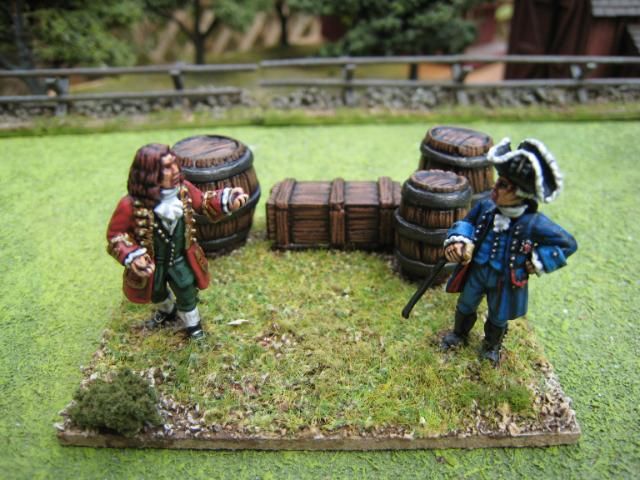 You can imagine the scene...
Commissary
von
Dumkopf
: "
Zis
is very disappointing. You said you could supply
ze
Burgunder
from Baden-Baden and now you say
zis
is not possible and I must do with some French nonsense instead?"
Mr Berry, purveyor of fine wines to the nobility and gentry: "Come on guv, don't you know there's a war on? You're lucky I managed to get anything past the
Frenchies
on blockage. Now my good friend Mr Gallo has managed to find me some excellent
pinot
noir
from the south of France, the spiritual home of your
Burgunder
I believe. This is top notch stuff and as a gesture of goodwill I'll throw in a case of
Louisiana Claret
for no extra c
harge
. Frankly, I'm robbing
meself
."
Von
Dumkopf
: "
Vell
, I suppose it will have to do. And to be honest, Colonel
Rall
will drink anything. I am sure he will enjoy Herr Gallo's wines at the Trenton garrison's Christmas Eve dinner."
These are the Voltaire and Frederick the Great figures from
Eureka's
latest 18
th
century civilians release. The story, linked above, of how US giant E&J Gallo had been duped into selling cheap French
merlot
as
pinot
noir
provided the inspiration as to how to incorporate these figures into my
AWI
collection. The Frederick figure is painted as a commissary from the Hesse-
Cassel
corps. I could not find any information on the uniform of Hessian commissaries, so followed the Prussian uniform in the
SYW
, on the basis that the
Hessians
often followed Prussian practices and styles - it seemed a decent default option. A certain amount of artistic licence was necessary on the Frederick figure - this is clearly a very senior commissary. The barrels and crates are resin items are from Warlord Games.
2 figures. Painted March 2010.