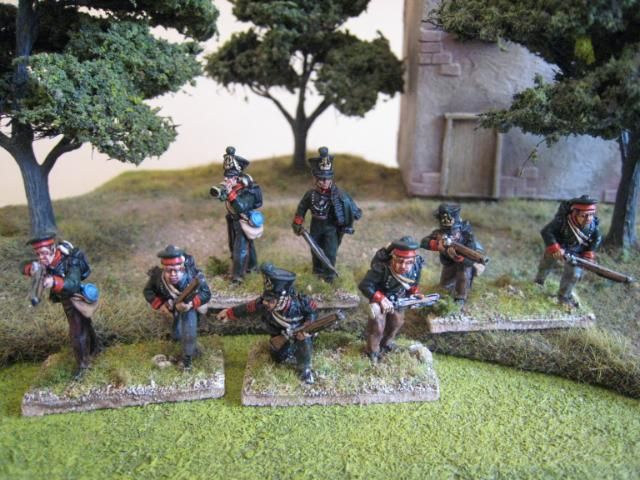 I forgot to post pictures of the remaining BAL riflemen, which I painted back in June. I spotted them on a shelf when I was looking for a particular music CD! The Perry range has 3 riflemen packs, 1 command and 2 rank and file. The command pack contains the rather elegant officer featured here - perhaps Captain Costello himself. Whereas the first batch were painted largely in regulation uniform, this second batch have locally made trousers of various hues, including a couple of pairs of grey ones taken from the Isabelino infantry; I deliberately wanted a more "on campaign" look.
Perry Miniatures have just released some mouthwatering BAL goodies for this range - infantry running at trail, Scottish battalion command, Royal Artillery and a Royal Marines rocket detachment. Given that the artillery and Royal Marine units were drawn from the British regular armed forces, these figures could be used for other "colonial" conflicts in the 1830-40s. I'm currently finishing the last figures of my second BAL infantry battalion and have started on a unit of Isabelino provincial militia.
8 figures. Painted June 2009.