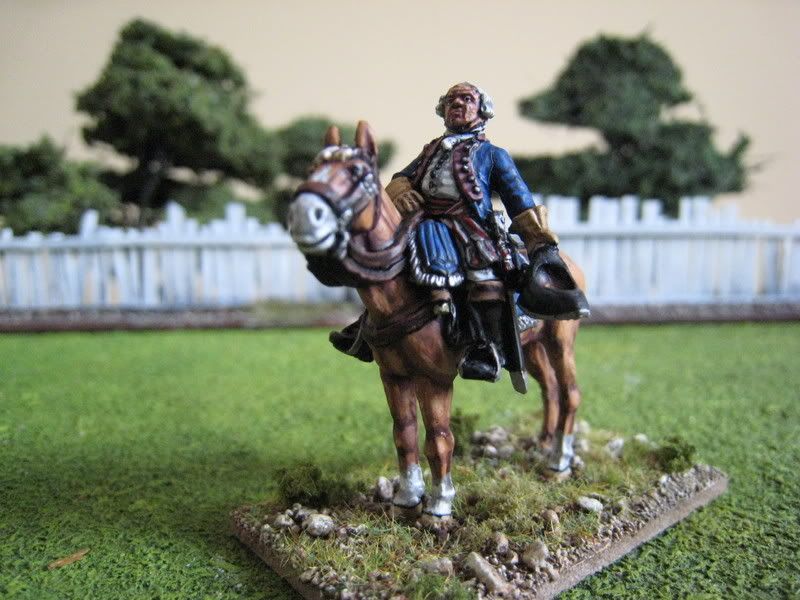 Stirn was one of the three Hessian brigade commanders subordinate to Heister and Knyphausen, the two divisional commanders. I have not been able to find much information about Stirn. He is noted for having given 12 strokes of the cane to a British seaman who threw a burning coal at a Hessian sentry during the voyage to America in 1776. He seems to have been honorary commander of the Erbprinz Fusilier Regiment and his brigade saw action at Fort Washington, Brandywine and Germantown. Stirn was sick for most of the 1776-77 period and picked up a wound at Germantown. He returned to Hesse in 1779.
This figure completes the trio from the Perry Hessian generals pack. I painted Knyphausen and Riedesel (strictly speaking a Brunswicker rather than a Hessian) back in January. A couple of years ago I painted up the Old Glory Knyphausen personality figure as Stirn, but this Perry sculpt puts that figure completely in the shade. I have not been able to find out how old Stirn was in 1777, but the Hessian divisional commanders were both pushing 60 and I imagine Stirn was not much younger. This sculpt certainly captures the image of a weary, battle-hardened old veteran and I particularly like the way the figure slumps in the saddle; he looks like someone who hasn't quite recovered from sea-sickness and just wants to go home. I can't see any reason why this figure could not be used for the SYW.
I gave Stirn the facing colours of the Erbprinz Regiment - a kind of dark Burgundy red, which may or may not be entirely accurate. The close-up above shows that I completely forgot to paint the buttons on the waistcoat. I only realised this when I looked at the photos! The buttons are now finished, but to be honest I just couldn't be bothered to re-take the photos. I hope readers will excuse this lapse. As the saying goes, even Homer nods (although I'm not sure the likes of Messrs. Woodward and Dallimore ever do)....
Painted October 2007.