This is something I've wanted to paint for a while. During my trip to Boston in April 2007 the Kiwi and I visited
Christ Church in Cambridge
, Massachusetts. There was a small display inside which recounted the history of the church and it stated that George Washington and his wife Martha prayed there. The display also referred to Washington leaving his famous wheelbarrow outside the church while he prayed. I had hoped to paint this up but couldn't find a suitable model. However, the Westphalia Miniatures
wounded Frenchman
set that I bought recently came with an extra wheelbarrow. Thinking about how to use it, I recalled Washington's wheelbarrow and so tried to find out more.
Much is written about Washington's horses, Nelson and Blueskin, but not so much about his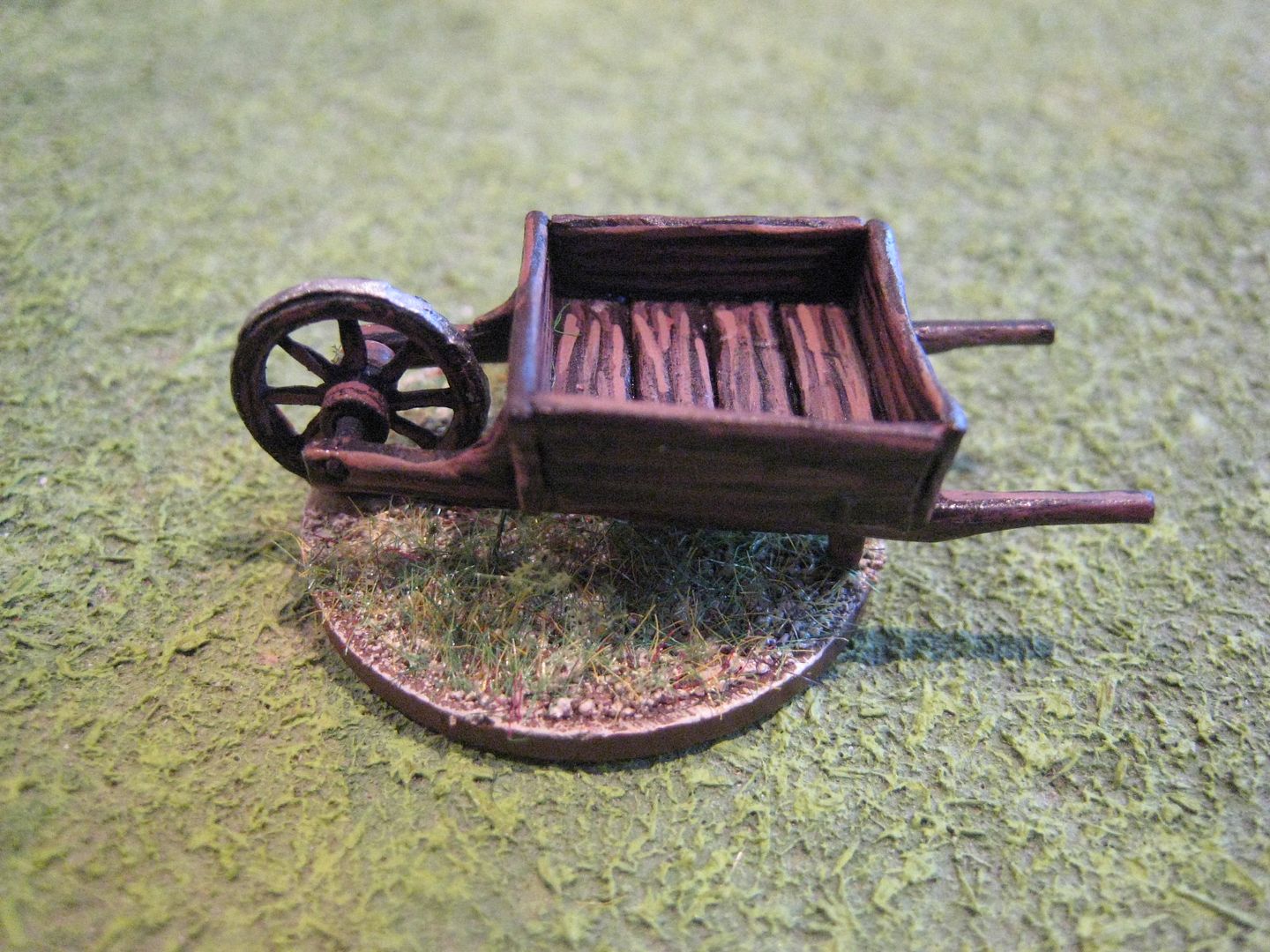 wheelbarrow. Washington's wheelbarrow accompanied him throughout his campaigns. It reminded him of his Virginia plantation home and became a symbol of the independent society that he hoped his armed struggle would bring about. He used it to transport personal items that he didn't carry on his person, such as a spare telescope, extra pistols and ammunition and fodder for his horses. The wheelbarrow often found itself in the think of battle. At Long Island in 1776 is was almost left behind in the American fortifications as Washington retreated across and the sergeant in charge of the wheelbarrow's safety, Ebenezer Crouch of the 2nd New York regiment, was demoted to the ranks for his negligence. On 9 October 1781, as Washington prepared to fire the first cannon shots against the besieged British inside Yorktown, in was in his wheelbarrow that the relevant shot was brought to him. The wheelbarrow could also turn into an impromptu soapbox. In May 1782, Washington's army was encamped along the Hudson River and the men, bored, underfed and with pay heavily in arrears, started thinking of mutiny. A plot developed in the 1st Connecticut regiment, whereby the men would march to the nearest arsenal, seize the cannon and then descend on the Connecticut legislature to demand their pay. The soldier in charge of the wheelbarrow at this time was a certain Ambrose Gaylord, of the 1st Connecticut. He tipped off Washington about his unit's intentions. Washington calmly walked to the regiment's lines, upended his wheelbarrow to create a speaking platform and gave an inspirational speech that stopped the mutiny in its tracks.
I wanted the wheelbarrow to look like it was made from Virginian wood and also as if it had seen action. I quickly realised I had no idea how to do either of those things, and so painted it to my standard "wood" recipe. Still, I'm glad to be able to add this old campaigner to my American forces. I might allow it to add a +1 on morale throws when attached to an American unit.
1 wheelbarrow. Painted 1 April 2013.