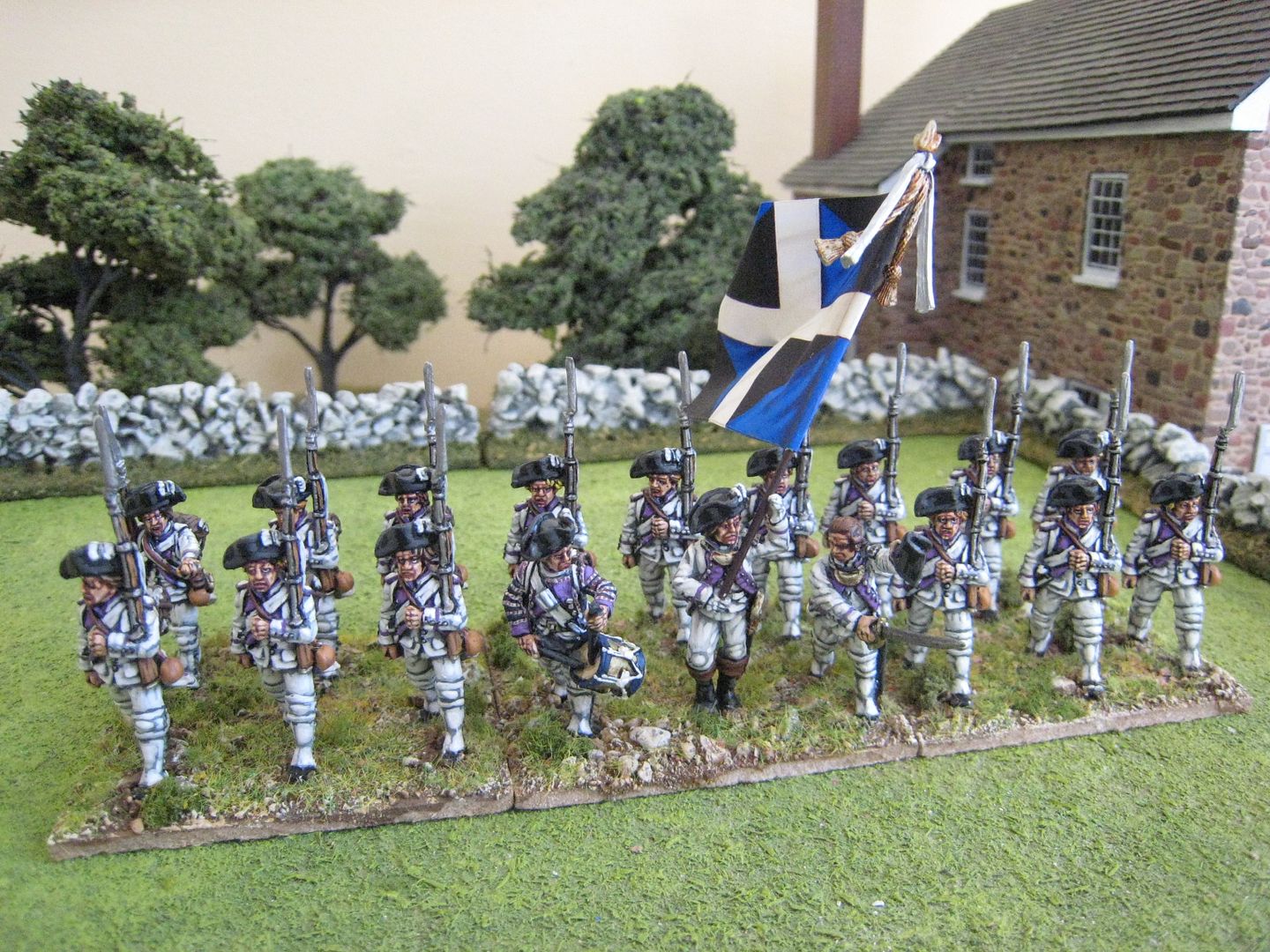 In addition to the
Regiment Dillon
, the Savannah scenario (in the second "British Grenadier!" scenario book) requires composite fusilier battalions of 16 and 18 figures respectively. This reflects the way in which elements from various regiments were formed together into ad hoc detachments. The notes to the Savannah scenario state that these detachments contained troops from the Cambresis, Champagne, Agenois, Gatinais and Auxerrois regiments. Therefore, when modelling these units you could paint up 1 or more stands from each of these regiments to recreate what happened in practice, or ignore that and field units of identically uniformed figures. I decided that for various reasons I wanted my collection to have several full regiments of French fusiliers, essentially to keep a large degree of flexibility in how I could field them. I intend to paint up 3-4 of the regiments mentioned above and then use various bases from those to form the composite untis required for Savannah (and other scenarios). I can then use the full regiments for "what if" games or larger scenarios.
So here is a battalion from the Gatinais regiment. The flag is the more colourful second battalion flag. I understand that the regiment had been stationed in the Caribbean since 1775 and a detachment went to America in 1779 with d'Estaing. The chasseur company in particular distinguished itself at Savannah, with most of its officers becoming casualties. The remainder of the regiment arrived in 1781 with Saint-Simon. The regiment again distinguished itself in the attack on Redoubt 9 at Yorktown, which the regiment's grenadiers captured with men from the Royal Deux-Points regiment. Apparently, Washington expressed his admiration of and gratitude to the French units by presenting the two regiments with the cannon which they had captured from the redoubt.
The flag is from GMB. I have seen references to the Gatinais flag being black and violet rather than the black and blue as shown here. I gather that Richardson in his Standards and Colors of the American Revolution states that the colours were black and marine blue, and presumably GMB followed this source. The figures are in the 1779 ordonnance uniforms, which is certainly wrong for Savannah and probably still wrong for Yorktown. However, Perry Miniatures only offer standing figures in the 1776 dress and I wanted more active poses for Savannah and Yorktown.
18 figures. Painted February-May 2011. Flag from GMB.