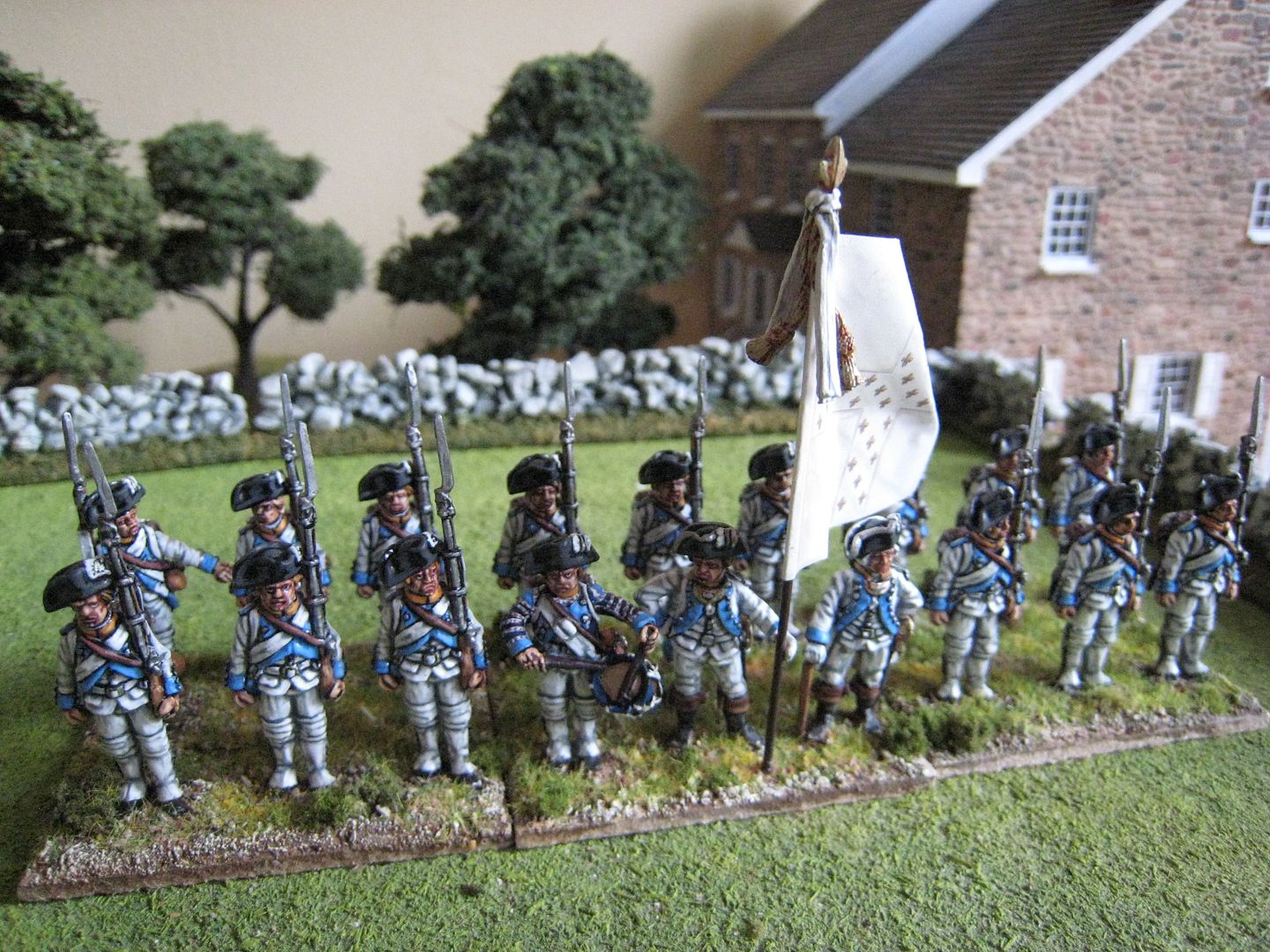 The Armagnac Regiment was part of the Comte d'Estaing's force, the first French troops to participate in the AWI and which arrived in America during summer 1778. After the failed attack on Rhode Island, the French force moved off to the Caribbean and attacked St Lucia, which had been captured by the British. The resulting battle of La Vigie is in the first "British Grenadier" scenario book, which requires two battalions of the Armagnac regiment at 18 figures each. They are in the earlier uniform. A wiki search reveals that a post AWI colonel was one Comte Alexandre Andrault de Langeron - this chap was an ardent royalist who left France when the revolution started and joined the Russian army, rising to the rank of General and commanding a corps in 1814.
As this is the first battalion, the flag used is the white colonel's colour; the more colourful
drapeau d'ordonnance
will go to the second battalion. The distinctive French finial and cravat was sourced from Front Rank, who sell these things in packs. Given the white uniforms of these troops, I used a grey undercoat rather than my usual black one, specifically Army Painter's grey spray which is an exact match with Coat d'Arms "525 Uniform Grey". I then used my usual Foundry and Coat d'Arms paints to build up to the final pure white highlight. I continued to use blacklining but for the white uniforms and gaiters I used Coat d'Arms "533 Slate Grey" instead of black to create a slightly softer look. Overall I'm happy with how these figures turned out (although the quality of photos still leaves much to be desired!).
I'm afraid work has intervened to prevent more regular posts. I have a load of stuff photographed, AWI (British cavalry) and Sudan, so hopefully next week will see more posts.
18 figures. Painted March/April 2010. Flag by GMB.