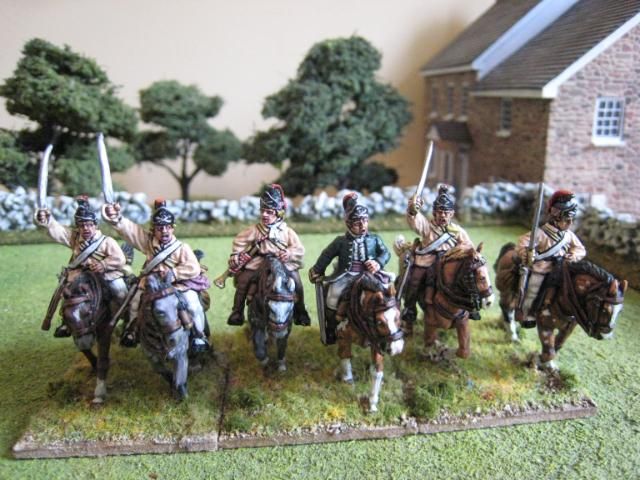 The 17th Light Dragoons arrived in America in 1775 and remained until 1783. The death's head badge on the helmet is said to have commemorated the death of James Wolfe at Quebec, although an alternative idea is that the motif is modelled on the Prussian Army's Black Hussars. The regiment saw service throughout the war in the north. In 1779 the regiment was sent to serve with the British Legion in the Carolinas ("stiffen" the Legion is the word used by Stuart Reid in the "King George's Army (3)" Osprey). The troops were engaged in numerous raids and skirmishes. In the published "British Grenadier!" scenarios, the southern 17th appear only once, as a 6 figure unit at Cowpens.
I want to build up my AWI cavalry his year, and I'm going backwards with the 17th - starting with Perry figures for the later, southern theatre and I'll finish with a 12-figure unit in full dress for the early part of the war (via one or two other things). In the south, the 17th wore white linen smocks due to the heat, although I have seen references to these being worn either instead of or over the regulation uniform. I painted the smocks on these figures with Foundry's "Palomino 56" palette as I wanted a creamy rather than white look. The officer's coat shows a bit of artistic licence. I thought it would look a bit odd if the officer wore the same coloured coat as the men - it's clearly a well-tailored coat rather than a smock. I thought I could paint it a slightly different shade of cream (as shown on the Perry Miniatures website), but that seemed a bit too "civilian" and I wanted something that was clearly a uniform. The cut of the coat is not quite right for the 17th's regular uniform, so I decided to paint it in dark green as a nod to Tarleton's Legion. I have read that the 17th were very proud of their uniforms when serving with the Legion, but maybe this officer had agreed with a loyalist friend that he would wear a green coat for the day, or his own uniform was being mended and this is his "No.2 suit". It's not historically accurate, but the green adds some colour to what are otherwise fairly uninteresting uniforms.
Again, work has affected blogging over the past week or so. Coming up are some more 17th Dragoons and, er, 1880s Baluchis....
6 figures. Painted April 2010.