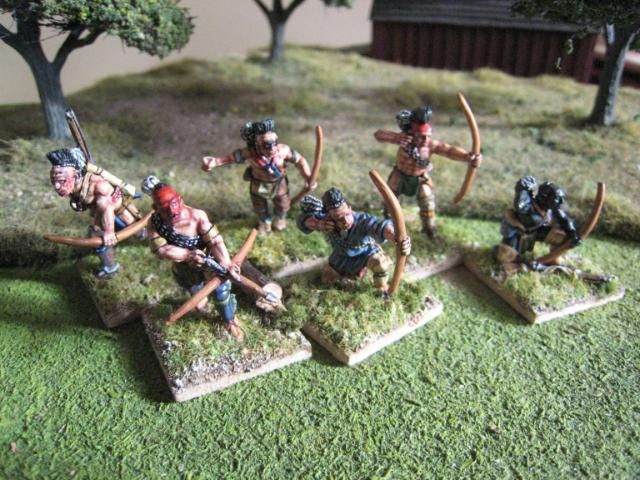 These are my first new indians for almost 2 years. When I painted the various Perry Miniatures packs over the summer of 2007 I left out the pack of bow-armed figures for some reason (and I see I forgot to post pics of one of the other packs). I've been meaning to paint figures these for a while and the other week the urge to do arrived. I don't worry too much about the skin tone of native Americans - my feeling is that, whilst some people manage to catch the darker/redder look very well, the difference in skintone is not something I think makes much difference in 25mm. Also, I have my recipe for flesh and wouldn't really know how to start amending it for "redskin" skin. The figures are based on 25mm x 25mm squares, which is the standard frontage and depth for skirmishers in the "British Grenadier!" rules
Once again, I apologies for the rather dull nature of the photos. I'm just not getting the lighting right at the moment, which I hope is due to the changing autumnal sky rather than anything I'm inadvertently doing myself. I might try experimenting with artificial lighting. Next up, lots more First Carlist War and I've started work on another AWI British line battalion.
6 figures. Painted September 2009.