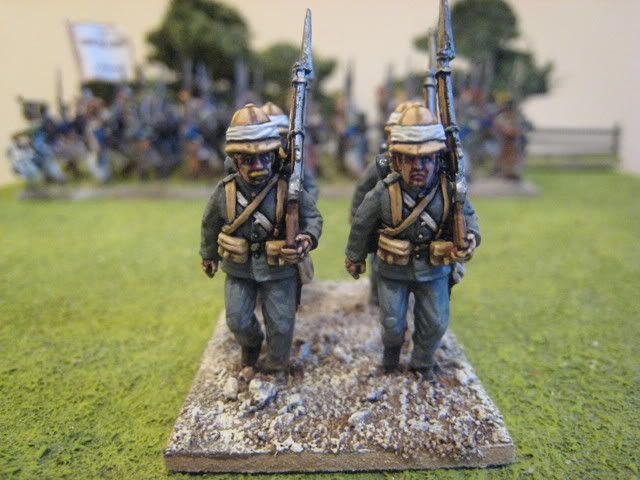 Tarleton's Quarter celebrated its second year yesterday, and I'll use this at an opportunity to say a big "thank you" to everyone who reads this blog and posts comments. Ultimately all blogs are "egotistical" to a greater or lesser extent in that they presume that others are interested in what the blogger has to post, and so I've always been surprised at how many people think this blog is worth a look. I suppose the answer is that I myself greatly enjoy following other gamers' blogs, seeing what they are up to and hearing their musings on the hobby. Looking back on the state of the wargaming blogosphere as at 4 January 2007, there are now considerably more blogs and personal sites around; at times it seems that there cannot be too many gamers left who do not have a permanent internet presence, whether via their own blogs or as a regular poster on a forum. For people such as myself who are not affiliated to a club, and indeed for wargamers generally, this must be a Golden Age of wargaming cameraderie and information sharing.
So what will 2009 hold for Tarleton's Quarter, aside from a month's closure whilst its barman heads off to the Pacific to get married? The AWI is still a core concern, but readers will know that I have been moonlighting with other periods since November and I confess that I am enjoying this. I'm not bored with the AWI by any means, but rather I'm acutely aware that marriage brings less time for painting and, whilst I'm not quite yet in the last chance saloon, I can't help but feel that my gaming options should be expanded beyond one period. I know I have said this many times before, but the recent Long Island game made me realise that there comes a point when you can have too many figures in a collection; and on reflection, that point is much closer than it seemed a few weeks ago. That said, the AWI is a large period and there are various gaps I need to fill: cavalry for both sides, more militia, a revisit to Howe's northern army to pick off some random British line regiments, lots more Hessians, anything new that Messrs. Perry or Eureka release over the next few months. So there is still much work to do, but I am going to dilute the AWI postings with appearances from other periods. At the moment, those periods will be 1815 and the Sudan. I hope hard-core AWI readers will forgive this indulgence... but at least it means I will be able to string out my AWI stuff for longer than if I spent all my time on it.
2008 was a good year, highlights being the Long Island game and seeing some of the AWI collection in "Battlegames" and Touching History book 4. On the painting front, the year's output is as follows: foot/cavalrymen - 438 (360 AWI; 52 French Naps; 12 Sudan Beja; 4 Sudan Brits; 10 ACW); horses - 17; carts & limbers - 7; guns - 6. So that's 468 pieces, which isn't too shabby (about 9 a week on average). Above are a couple of wip pics - Young Guard Voltiguers from 1815 and the Royal Irish Fusiliers from 1885. Happy New Year!