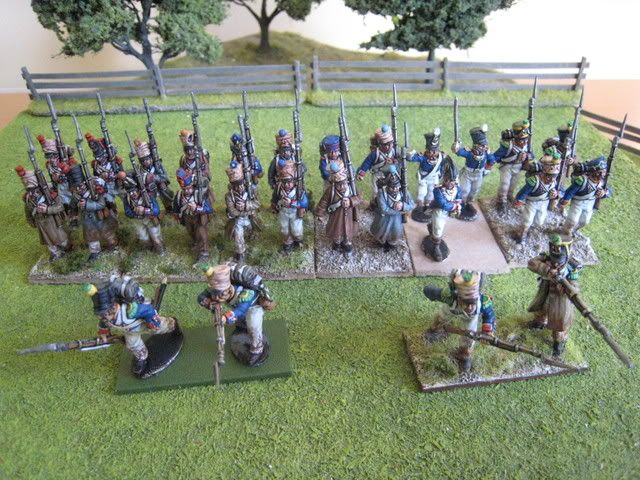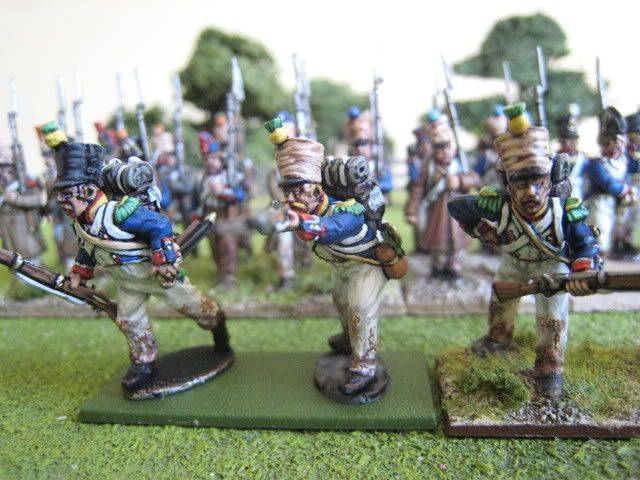 I have reached one of those moments when I have lots of stuff waiting to be based but nothing finished to put up. Also, it is difficult to take decent pics at the moment because the light in London is very bad and it remains dark until after I have left for work, so all photos have to be taken under artificial light. So here, in the absence of anything else, are the current wip shots of the first battalion of the 72eme Ligne (actually now finished and in the basing process) and the Young Guard 3rd Voltiguers (the command base is now completed with a fifer and drummer). By the end of the week I should have proper posts on the 9th Foot and more British artillery for the AWI and the 72eme Ligne. 60-odd Sudanese Beja are waiting in the wings.
Once these units are finished, which will require the balance of this week, I will be returning full time to the AWI for a while. Consequently, I have been giving some further thought to what I might paint up over the next 6 weeks (i.e. until I head off to New Zealand again). For the past couple of years I have planned out my painting schedule about 2-3 months in advance - I find doing so controls the purchasing of new lead and gives me something to aim towards. So here is what I have planned for the next few weeks:
- a northern-states militia unit (20 figures);
- 17th Light Dragoons in southern dress (6 figures);
- Von Mirbach Musketeers (24 figures);
- more Iroquois indians (12 figures - a mix of Perry and Conquest).
That should be enough, especially as I want to finish some Sudan stuff too. And, horror of horrors, I have been told that "dance lessons" are going to impact on my evening painting time over the next few weeks....