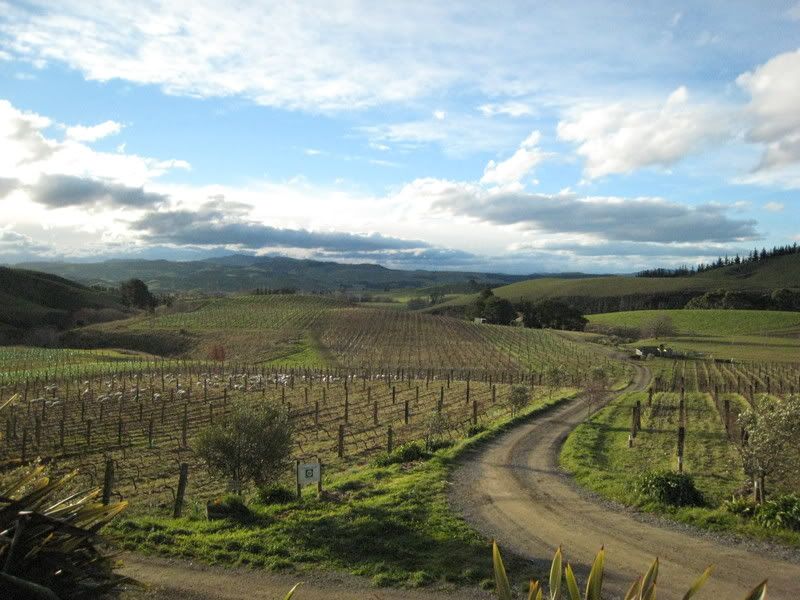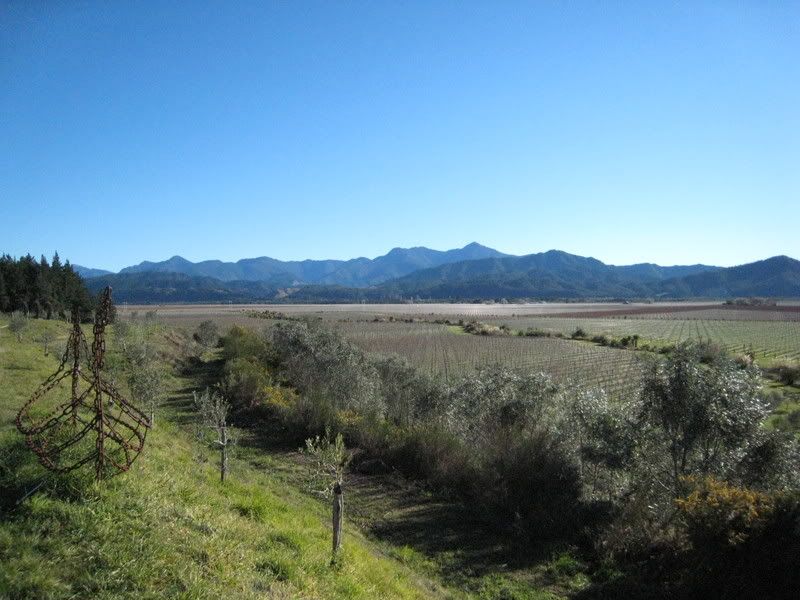 ...and again astonished by what a beautiful country New Zealand is. There was a lot of bad weather around, but we seemed to miss most of it and were lucky, having sunshine for most of the holiday. Compared to England, the winter sun in New Zealand is quite strong and so my failure to bring an overcoat and, in fact, any warm clothes was of no concern. Above are a couple of photos of the vineyards in, respectively, South Island's Waipara plain and Wairau Valley - a very quiet and peaceful place, which now makes some of the world's greatest wine. Driving down from Auckland to Christchurch we managed to visit 27 cellar doors in total: 5 in Hawke's Bay, 20 in Marlborough and 2 in Waipara. Winemakers were eager to talk up the 2008 vintage, despite reports of awful rain shortly before harvest; I suspect the results will in fact be pretty mixed.
I managed to meet up with a couple of wargaming chums. Dr "Valleyboy" Thomas in Tauranga provided excellent company for lunch and an afternoon's winetasting, before we joined his wife Nicky and the Kiwi for a marvellous home-cooked dinner. I took the opportunity to inspect VB's impressive (and extensive) 15mm Naps collection - a couple of photos appear below. A week later in Wellington I met up with Peter Halzedos of the Kapiti Fusiliers. After another inspection, this time of 25mm Calpe and Front Rank Naps, Peter drove me to the DIY shop in town that supplies him with some of his bases - I've been looking for round bases for ages, and was delighted to find some (they are drinks coasters, apparently...). Those meetings were highlights in a holiday that largely centered around meeting the Kiwi's friends and relations and then finalising the plans for our wedding in Napier next March.
But the holiday was really all about the wine, so for those who are interested in such things, wine highlights were as follows: Martinborough Vineyard "Te Tera" 2007 Pinot Noir; Nautilus Winemaker's Selection 2007 Sauvignon Blanc; Cloudy Bay 2007 Pinot Gris; Villa Maria Cellar Selection 2006 Merlot/Cabernet; Te Mata Estate "Bullnose" 2005 Syrah; Black Barn Hawke's Bay 2006 Chardonnay; Mount Riley "Seventeen Valley" 2006 Pinot Noir; Isabel Estate Late Harvest Sauvignon Blanc.