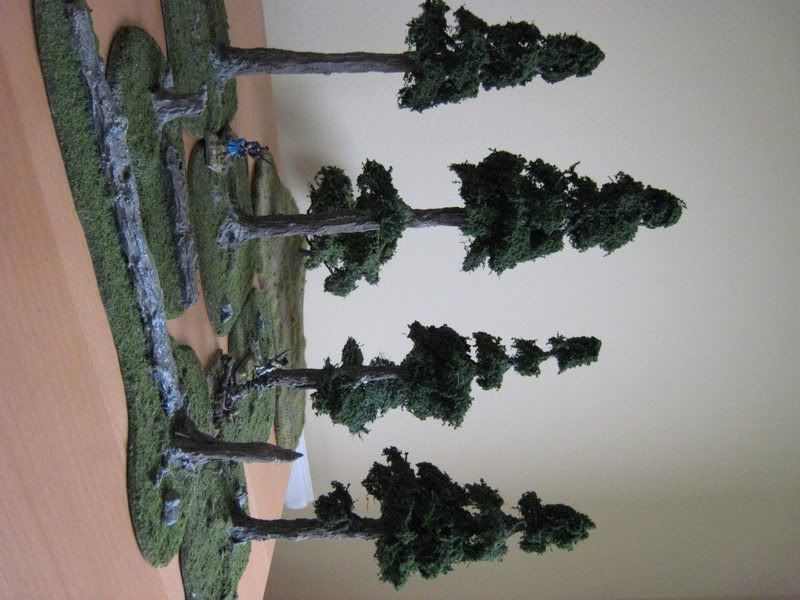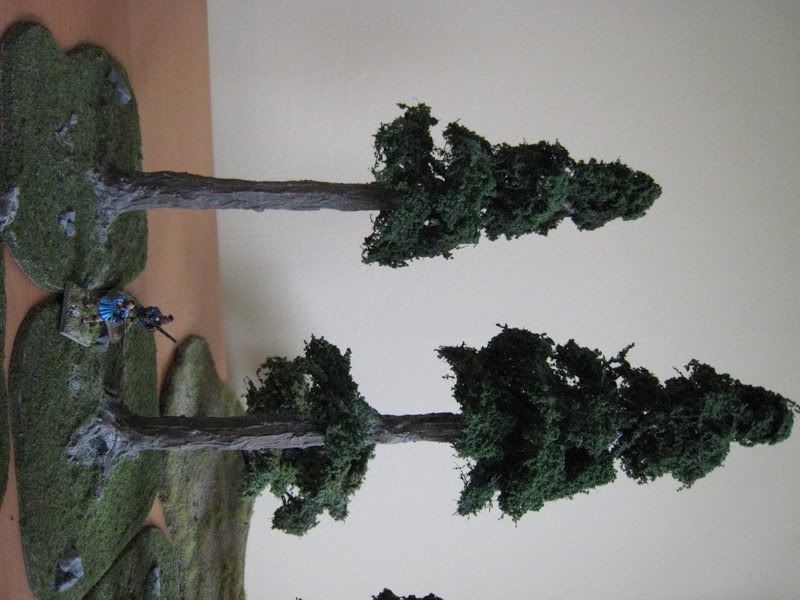 Before I get stuck in to some photos of my recent AWI-themed holiday, I thought I'd post about some rather spectacular terrain pieces I recently acquired. I liked Barry Scarlett's vines so much that I asked him and his colleague Mark (both of Murray Bridge Trees and Terrain,
here
) if they'd be able to make some of those huge trees that appear in paintings and photos of American landscape. I was thinking particularly of Robert Griffing's paintings of the Ohio and Hudson valleys, which often feature enormous trees of varying kinds. Pictures of the ACW's Wilderness campaign also spring to mind. In my last post I referred to giant redwoods, and I appreciate that those trees are only found on the Pacific coast. I suppose that's generally what I had in mind, absent any other specific
genus
. But to be honest, I'm not really that fussed about what species of tree these are; I just wanted something large to float at the back of my terrain and heighten the impression of a battlefield that was a long way away from old Europe. That said, answers on a comment post if you think you may have a convincing idea as to what these trees could feasibly be in upstate New York....There are no prizes - it's a serious question!
The largest tree, on the right of the second photo, measures 36.5 cm high. Golly. The figures are of course 25mm Perry sculpts, to give a sense of scale. In the background is the wooded base I usually use for my photos - these are "small" trees from Realistic Modelling. Mark added a couple of bases of broken trunks; the shape of the larger one is, I think, a practical joke...I also bought some sachets of differently coloured "flower scatter" which I will add to the 84th Foot's bases when that unit is finally finished. When I painted the 55th Foot a few years ago I liberally added to the bases the crystals from a Woodland Scenics lavender field mat - the result worked ok; I must take some photos of that regiment at some stage.
Anyway, if you fancy some sequoia, or whatever they are, drop Barry and Mark a line. Each tree and base cost Aus $47.50, which is about £22 or US $44 (the trees were based at my request; the chaps can supply the trees unbased for less). That includes a "prototype discount" since the lads hadn't really made any before; but I think the price is very good value given the size of the trees, at least compared to UK-manufactured trees of a similar quality. Postage to the UK was a substantial Aus $90 for the lot (2 boxes' worth), so I suppose that adds an extra £10 on to the price of each tree, although I also received the two bases of logs and 5 bags of flower scatter. I have to say that the packaging was excellent. Overall I'm delighted with these products and I certainly don't mind paying a premium for postage to receive such excellent items from Australia, especially when I've never seen anything similar in the UK or come across modellers so eager to jump into a new challenge. In any event, I buy large amounts of wine from Australia, so why not wargames terrain? It could be Australia's next big growth export if marketed properly....