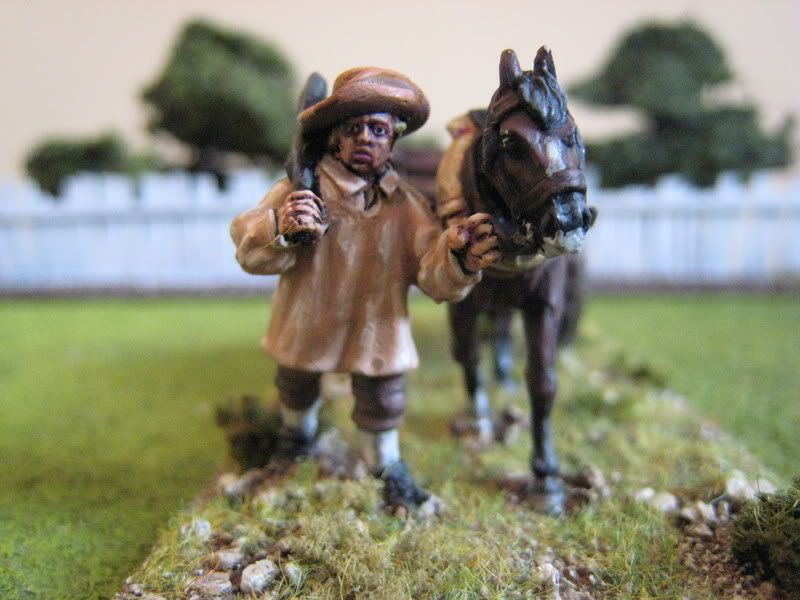 This is the second of the Perry tumbrels that I acquired at Christmas. For variety's sake I swapped the driver with the figure from one of my two 4-wheeled ammunition wagons, so both tumbrels don't look entirely the same. I also painted the horse as a bay rather than a chestnut. I find I don't paint enough bays because chestnuts are my favourite, and so my "default" option when painting horses. Looking at my "artillery train" the other day I realised that almost all the horses are chestnuts, so I quickly repainted as bays a couple of the horses currently on my painting table, which seemed to be in the process of becoming chestnuts as well. I painted a "dun" as well, although I'm not sure it turned out all that well.
These photos are the product of a marathon basing session last night. Over the next few days I'll post photos of the 3rd New Jersey, the 4-wheeled ammunition wagons and a limber. Incidentally, Henry Hyde tells me that a forthcoming issue of "Battlegames" magazine will feature an article comparing various AWI rules - sounds fun, so keep your eyes peeled. Also in the final stages of preparation is volume 4 of Touching History's terrain and model making books, which will feature the AWI, F&IW and ACW.
Painted January 2008.