Husson commanded the 1st Brigade of the 5th Division in Reille's II Corps. I have all the infantry and artillery elements of Bachelu's 5th Division painted up, and needed command stands for Husson and Bachelu himself to finish it all off (the commander of the 2nd Brigade, Baron Campi, can be found
here
). He was born on 21 May 1769 and joined the army in 1787. He rose through the ranks, becoming a sergeant in 1791 and a sous-lieutenant the following year. In 1795 he was a captain serving in the Army of Italy and in 1806 became colonel of the 111th Line in 1806. He was made a baron of the empire in January 1808 and promoted to général de brigade rank in August 1811. Husson died on 4 May 1833. He appears to have had an impressive series of battles to his name, having fought in the Egyptian campaign and then at Jena, Eylau, Friedland and Wagram. In 1812, his brigade was part of Macdonald's X Corps and remained in Germany until after the retreat, and at some stage was moved to Danzig. Husson and his troops held the city until the garrison surrendered to the Russians in January 1814. He continued in some "desk jobs" after Waterloo, receiving promotion to général de division in 1826.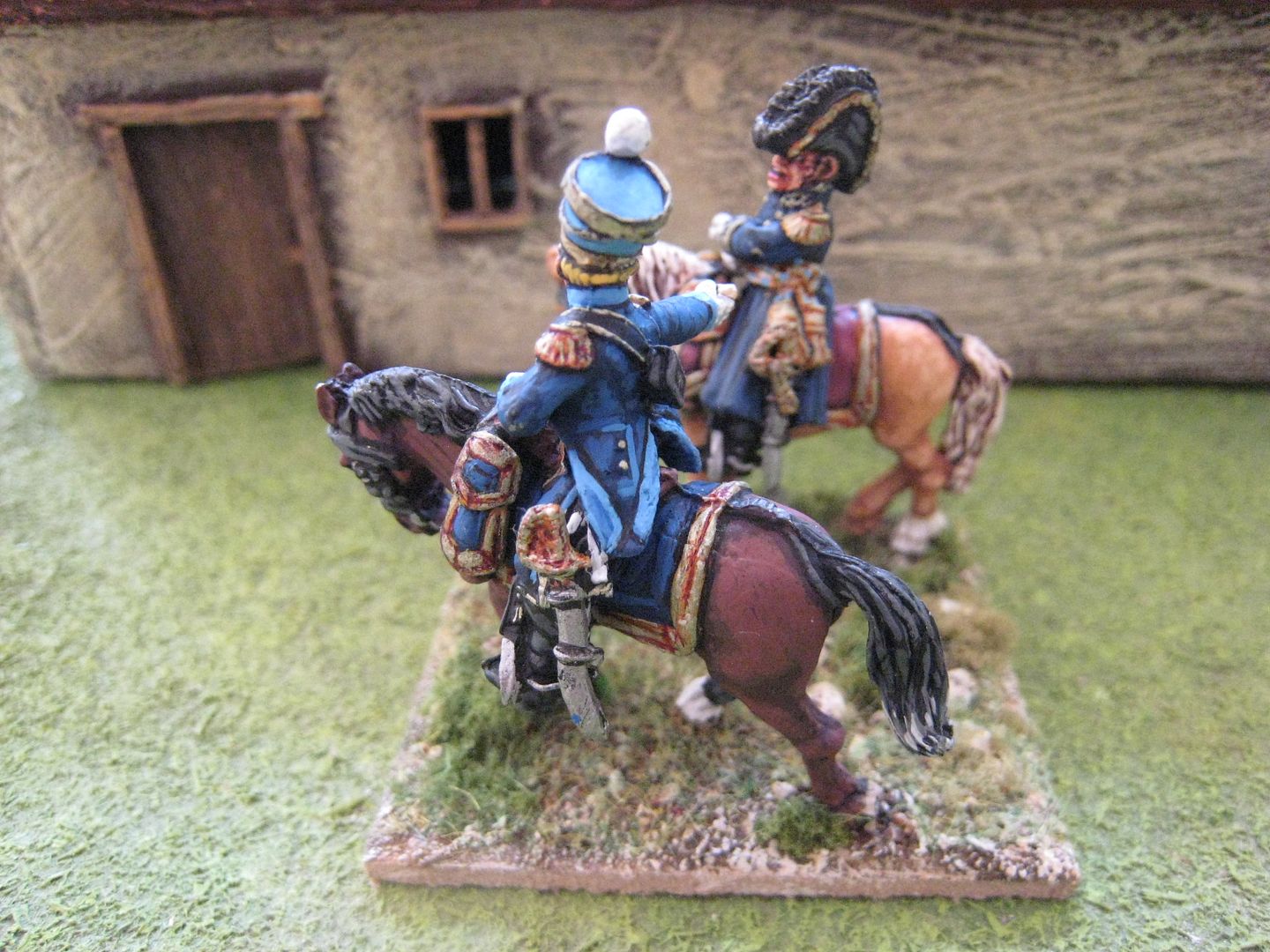 These figures are both from the Foundry range. There is a noticeable size difference between Foundry and Perry Napoleonic figures and so I'll have to keep them separate. I put these two together because I thought Husson looks as if he's just let go of the reins to reach out for the ADC's despatch. I like the faces on these earlier Perry-sculpted figures. They are slightly more caricatured when compared with the smoother feature of later Perry Miniatures sculpts, but that style provides some excellent expressions. When I finished this command stand I hadn't worked out that Hussons had just turned 46 at Waterloo, so making him one of the oldest brigade commanders. I might add a touch of grey hair this evening. This command stand has been on the "to do" list for literally years, given that I painted the last infantry battalion in the brigade at the end of 2011. When I've based the Bachelu command stand I must take some photos of the completed division.
2 figures. Painted July 2015.