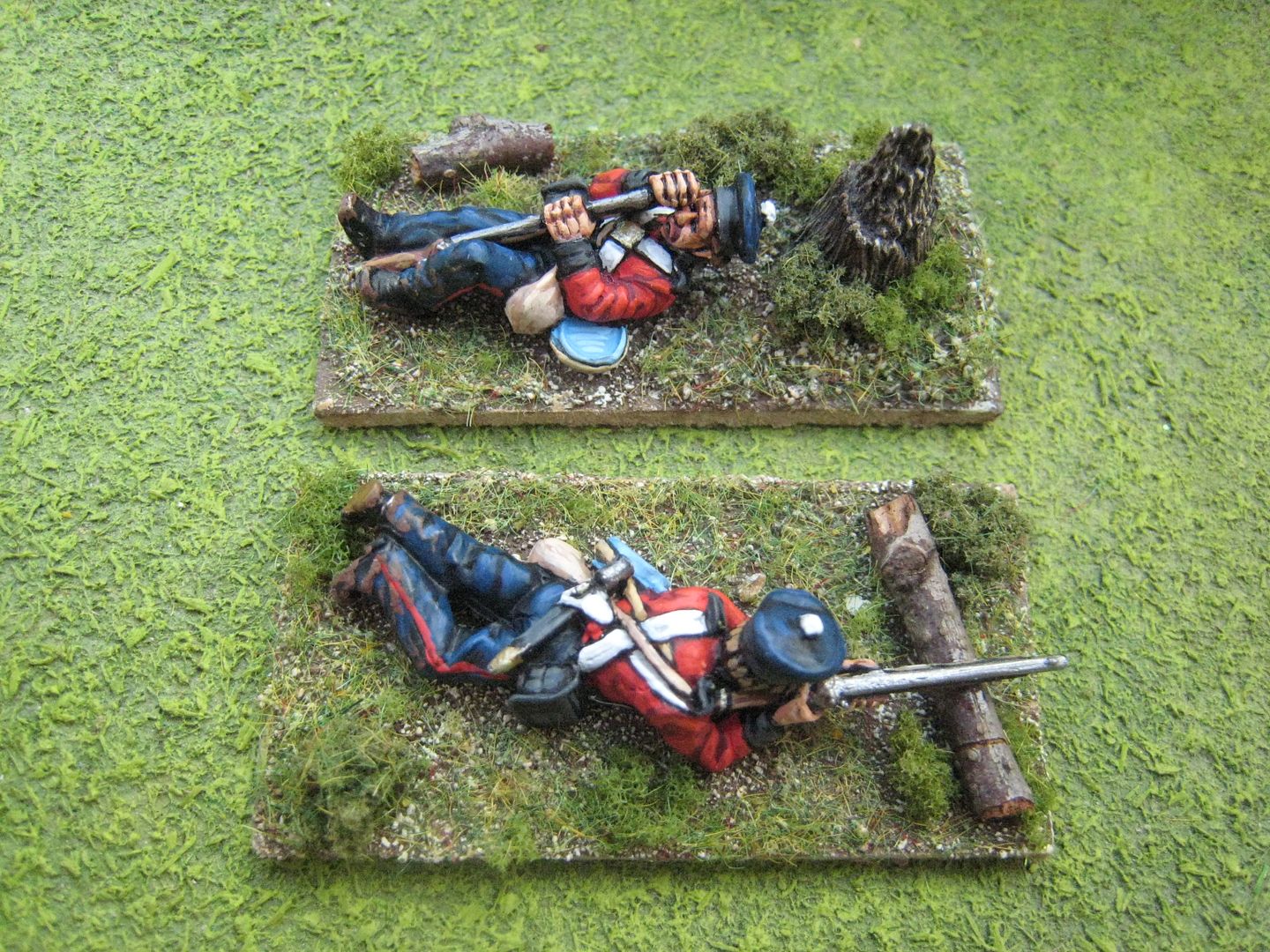 I meant to keep on posting daily over the bank holiday weekend, but it proved to be very busy and so apologies. What we have here are 6 further figures for the 58th Foot, who I previously wrote about
here
. The 58th arrived in New Zealand in March 1845 after spending a couple of years on garrison duty in New South Wales as part of a large reinforcement desatched from Australia in response to the sacking of Kororareka (modern Russell in the Bay of Islands, north of Auckland). Other troops were sent from the 96th and 99th regiments of foot and the Royal Marines. The 58th fought in the south of North Island as well as in the Bay of Islands. Apparently, when the battalion returned to the UK in 1858 some 300 of its number who were due for discharge decided to remain in New Zealand. I also gather that the 58th has the distinction of being the last British infantry regiment that carried its colours into battle, in 1881 at Laing's Nek during the First Boer War. 35% of the battalion's strength was lost during that battle, including 5 officers who successively carried the colours.
These figures are from 2 Empress Miniatures packs, a command pack and then a "British regular officers and skirmishers" pack. Personally, I'd like to see a full pack of skirmishers - I can see a need for several of the chaps lying down but less such need for the officer and sergeant figures that go with them. As I noted before, these figures also work for the
British Auxiliary Legion
in the
First Carlist War
so I expect I'll pick up another couple of packs in due course to bulk out my BAL command stands when I get around to doing them. In fact, the reason why I didn't paint the command figures back in 2011 was that originally I was intending to use them for the FCW. The trousers on these figures were painted in a similar way as for the Royal Navy, so "Foundry palette "British Royal Blue 74" and then an extra highlight of "Deep Blue 20B".
Six figures, painted March 2015.
The other figures in the unit were feeling a bit left out, so here's a team photo: