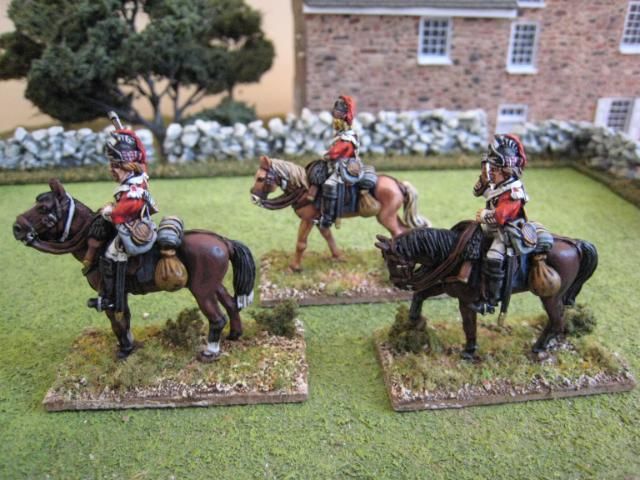 My second unit of figures for the 17th is the Perry pack of dragoons "on picket duty". These are lovely figures, although to be honest probably of limited use for the kind of large battles I'm interested in. That said, I can see them patrolling the edges of the British lines, perhaps on duty in camp or even hovering around General Knyphausen who had a couple of dragoons attached to his staff (presumably as bodyguards or messengers). The figures' suitability for skirmish games is obvious and, to be honest,the figures are too nicely sculpted to be hidden away.
As these are "early war" troops I deliberately painted the horses in more traditional colours and not as palominos, tobianos or any of the more fanciful breeds that I enjoy doing. Paintings of dragoons in Mollo and on the Don Troiani website show the horses carrying white head bridles. These bridles have quite clearly been sculpted on most (if not all) of the Perry Miniatures cavalry, but I hadn't noticed until now; consequently, I painted white harnesses where applicable. Veterans of the Foundry and Perry Miniatures AWI ranges will know that throughout the packs are various figures that have faces very similar to that of Alan Perry. These figures are affectionately referred to by my London gaming companions as "Alans". A classic example can be seen in the close-up in the last pair below, although I would emphasise that I have never seen Alan looking so mean! This is a face that appears in each of the rank-and-file cavalry packs in the Perry range. I'm quite pleased with the way this figure turned out - as someone said elsewhere, he looks as if he's going to shoot every rebel he comes across.
3 figures. Painted May 2010.