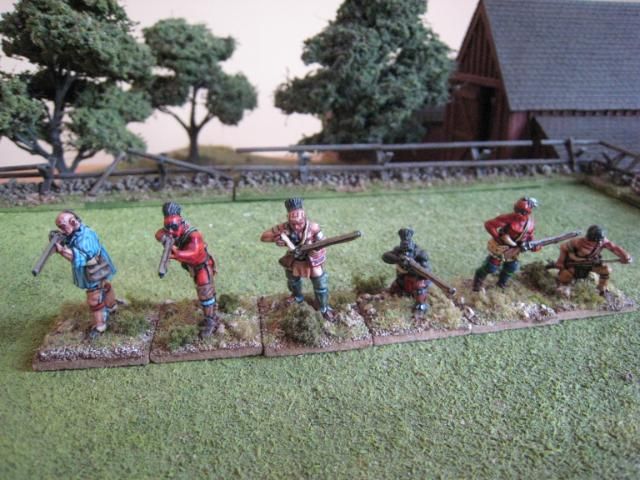 These are more figures from a couple of years ago, which I realised I forgot to post at the time. They are Perry Miniatures "woodland indians"; lovely sculpts which are full of character. As I've noted before, I base indians on 25mm x 25mm squares, this being the standard skirmish frontage in the "British Grenadier!" rules. There's no reason why you can't base them in twos or threes on larger bases; I decided to go with single bases to give me some flexibility for skirmish games as well as larger AWI engagements. I have some 60 indian figures in total now, so an inter-tribal or F&IW skirmish game is viable.
I never used to worry about "indian flesh" being different to "white flesh"; it seems to me that in this scale and on the tabletop there's unlikely to be much variation in colour between the red man and the white man and much of the flesh will be covered by markings and war-paint anyway. I imagine that different tribes from different parts of America no doubt varied in colour anyway. That said, I've seen very effective techniques for native Americans, particularly Apache and the like. Foundry have recently released a "native American flesh" palette and this post is also a prequel to my next post, which will feature two Conquest Minatures figures painted using this new Foundry palette. In fact, I've been trying out the various new Foundry flesh colours over the past few days and I'll post what I think of them over the next week or so.
The von Mirbach musketeers are currently on hold, 5 figures from the end, because I realised I didn't have their flags and so had to place an order with GMB (which usually takes a couple of weeks to arrive). Taking their place are the new Perry figures for Lee's Legion, which I'm pleased to find are quick and easy to paint (once you've bitten the bullet and decided that it's ok to paint them in bright purple...). I'm also going to be painting some French infantry, which will be a bit of a departure for me in that I'm going to use a grey undercoat for the first time and may see what happens if I ditch "black-lining".
6 figures. Painted May 2007.