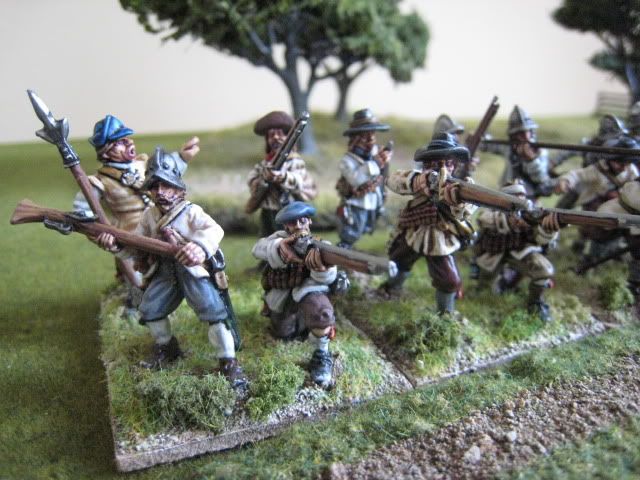 In addition to the First Carlist War, I'm currently also working on a Royalist army for the English Civil War. This is the first completed infantry regiment. It's currently lacking flags, but it's going to take me a while to work those out so I thought I'd post these pics anyway. This unit is nominally the Marquis of Newcastle's Regiment, one of the whitecoated regiments that fought at Marston Moor. Being part of the northern Royalist army, a couple of the soldiers have blue scottish caps. The white coats themselves are in various shades to add variety, but I tried to unify the regiment by painting the caps and monteros light blue.
I painted the left hand pike stand back in August 2007 and always meant to finish off the unit - but in those days it was non-stop AWI. But now I have sufficient motivation to have a good crack at the ECW and I happily confess to really enjoying painting these figures. The toys are a mix of Renegade and Bicorne - the former are larger than the latter, but not dramatically so and I don't think the difference matters in the same unit (I wouldn't mix Perry and The Assault Group in with Renegade and Bicorne). The larger size of the Renegade figures means a deep base is required - the bases here are 40mm x 50mm instead of 40mm x 40mm, which seems to be the standard for many sets of ECW rules. I um-ed and ah-ed over base sizes for ages, and owe thanks to wargaming chum Timmo (highly experienced in ECW) for helping me resolve this and other conundra. My opponent, Mr Eclaireur who is collecting Parliament's forces, is going for the new Warlord plastic figures and Perry. I have recently painted gun crews from those two manufacturers and they mix together very well. I'm looking forward to spending more time with the ECW; the only problem with the period is that all the pikes make storage rather tricky...
24 figures. Painted August 2007 and May 2009. The rubber road was made by Kerry Thomas (aka NZ's "Valleyboy"), whose excellent "how-to" article is in issue 16 of Battlegames magazine.