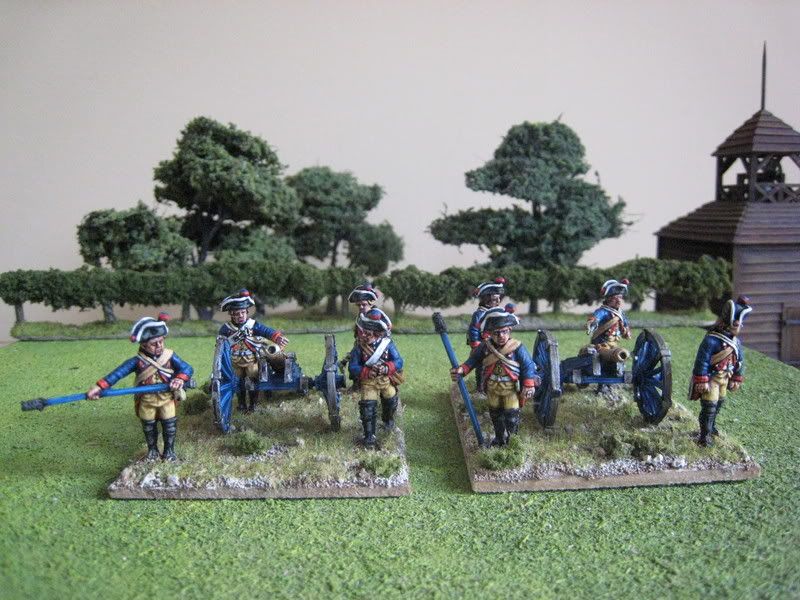 These are the two Perry Hesse-Cassel 4-pounders and crews. Apparently Hesse-Cassel's entire artillery corps was sent to America, most of it recruited specifically for the war, and the corps amounted to three companies. According to Mollo, each company consisted of 5 officers, 14 NCOs, 3 drummers and 129 gunners. The artillery corps was engaged throughout the war.
I admit to finding these a bit tricky to paint. The colours of guns caused the first problems - "mid-blue" seemed to be the general consensus as to the wood colour, following the colour used by the Prussian army. I used Foundry's "Deep Blue 20B" as the base, with highlights of "Deep Blue 20C" and "Sky Blue 21A" and "21B". The colour is pretty much what I wanted, although I have no idea if it is correct; but it is certainly a darker blue than the colours I use for British artillery. I painted the breeches of the artillerymen with the standard Foundry "Buff" palette and then realised that the end result did not have that "straw" colour which is appropriate for many Hessian troops. But I found that applying a final highlight of Foundry "Yellow 2C" over the buff colours actually worked quite well - so there is an answer to Hessian "straw" that doesn't even require mixing! The red facings are sometimes described as being more "crimson" than "scarlet", but I used my standard red colours of GW "Red Gore", "Blood Red" and "Blazing Orange."
8 figures and 2 guns. Painted September 2008.