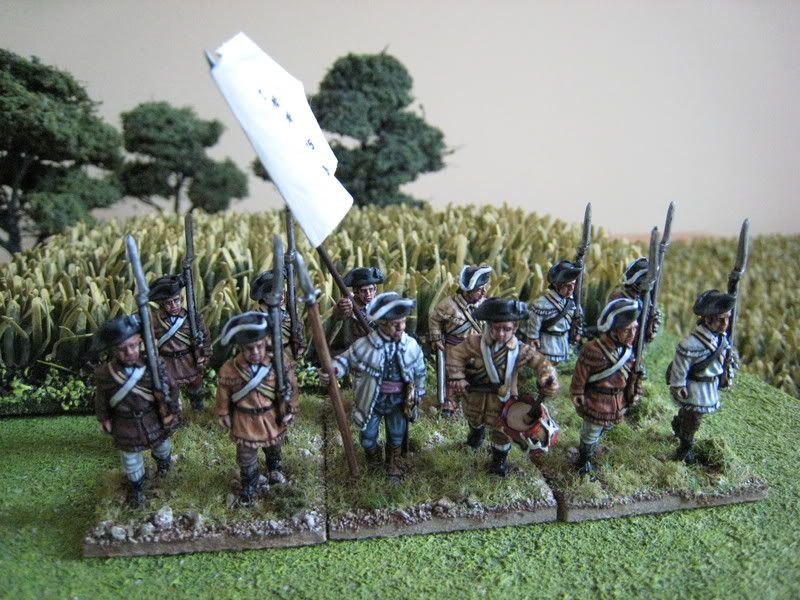 I have been delayed from posting about this latest regiment as all through last week I kept changing my mind about how I wanted to arrange the various figures I have been working on and all those "Southern militia" types I bought at Salute. A large part of my deliberations centred on how authentic it really is to have different coloured hunting shirts in the same "regular" units (as opposed to militia). There are recorded instances of regiments dyeing hunting shirts a particular colour and as the shirts formed part of the kit that was issued to soldiers one might expect each issue to consist of shirts of broadly the same colour. Then again, dyes would often not quite match, different companies within a regiment might have had their own distinct colours, and later units would have consisted of veterans who may have worn their older uniforms. In the end, I decided simply to mix the colours up for this regiment, but to apply a more structured approach in the future.
The units I am working on at the moment are primarily the three 12-figure North Carolina regiments that are required for the Eutaw Springs scenario from the second "British Grenadier!" scenario book. This is the 1st North Carolina. The second regiment will have buff/light brown hunting shirts, whilst the third will be a mix of hunting shirts and scruffy 1779 regulation coats for North Carolina regiments (this regiment will also be 16 figures, rather than 12, to make it more usable). So with the 1st and 2nd Regiments, I will effectively have a 20-figure hunting shirted regiment with an extra command stand. I also have another 20-figure militia regiment close to completion.
The 1st North Carolina Regiment was raised in September 1775. It was captured en masse (with 7,000 other Continentals) when the British took Charleston in 1780, although most of the men seem to have been exchanged within a year and so fought at Eutaw. I was pleased with the way the officer turned out, with his blue suit and white hunting shirt - I wanted the look of a rich businessman or landowner who was wearing one of his best suits under his shirt; as the figure is wearing leggings I had to paint in splatter-guards over his lower legs. Something else you might notice about the hunting shirt of each rank-and-file figure is that the left-hand cuff has a fringe and the right-hand cuff does not - is this really what hunting shirts looked like, or is this a "Perry nod"? The bee-hive motif on the flag is quite distinctive; and I do not know where the design comes from, and sources seem confused as to whether this was the flag of the 1st North Carolina Continentals or the "first flag of North Carolina". More interesting than a Betsy Ross, anyway....
12 figures. Painted May 2008. Flag from GMB.