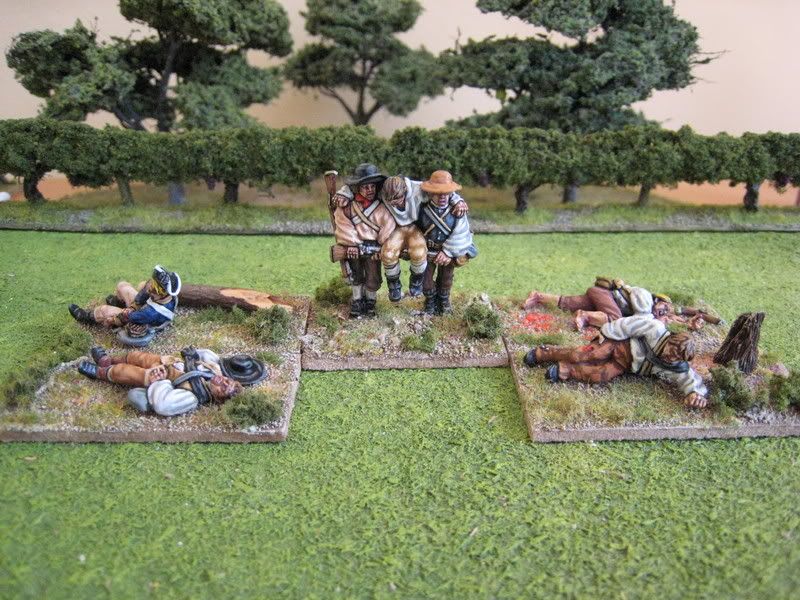 I wouldn't normally post on "casualty" figures, but there are three reasons to do so in this instance. First, I think the sculpt of minutemen carrying their wounded friend on a rifle is a
tour de force
by Alan Perry and deserves a mention. Secondly, as can be seen in the photos I have been experimenting with "flower scatter" to make bases a bit more interesting. Thirdly, I know that many people don't bother basing casualty figures and I thought it might be worth thinking about whether there is any merit in doing so. On this last point, I have always based my casualty figures, mainly because I think it looks neater (after all, everything else is based) but also because casualty figures allow you to be a bit more creative with the basing...
Which brings me to the "flowers". This scatter was sent to me by Murray Bridge terrain in Australia (see the links section); they provided flowers in yellow, white, pink, red and violet. I thought I'd post these picture because I'm interested to know what readers think about the effect. I have already posted one of these pics elsewhere and opinion seems to be mixed, with some clearly feelign that this sort of basing material detracts from the military look of the figures ("Flowers, Sir!? Flowers!!!" was Dave Brown's response). The fallen chap with the pistol has rather too much red scatter on his base - a couple of people who have seen this pic assumed it was blood! (Someone else pointed out that if the red scatter is suppoed to represent poppies, then due to the stalks the red flowers should properly be at chest height.) The scatter is more subtle on the other bases, so much so that you can't really see it in the photos, although an examination up close will show little specks of yellow and pink. I'm still experimenting, but I would be interested to know what people think of the use of this sort of material generally. All the figures bar one are from the new Perry southern militia casualties pack; the figure in the uniform coat if from the Continental casualties pack.
7 figures. Painted May 2008.