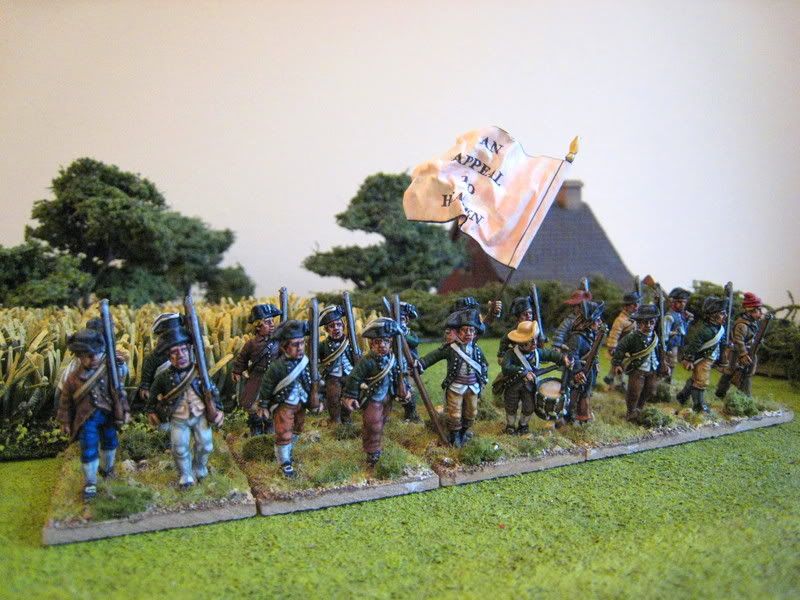 Sargent's Regiment was raised in Massachusetts in May 1775 as one of 12 battalions of 500 men each. I found a couple of references to men belonging to "Sargent's Regiment, Massachusetts militia", so the regiment may have had its foundations in a minutemen unit. Colonel Sargent's father had been a colonel of militia. The regiment became the 16th Continental Regiment in 1776 and then the 8th Massachusetts in 1777. The regiment apparently fought at Bunker Hill, New York, Trenton and in the Saratoga campaign. The regiment was disbanded in 1783. Colonel Paul Dudley Sargent himself survived a wound at Bunker Hill to become a brigadier and then after the war a judge in Maine.
I wanted to paint up a militia unit that could also pass muster as an ill-clothed state regiment and so be fielded in a regular Continental brigade. As with a couple of other such regiments I have painted, I combined figures from the Foundry "uniformed militia" and "minutemen" packs so that half the unit wears civvies and the rest are in some kind of uniform. The advantage of the "uniformed militia" packs is that the only bit of uniform is the coat and the waistcoats and breeches can easily be painted as civilian clothes. So when painting such a unit the only decision to be made is what colours to paint the coats. I had a look through Mollo and a couple of Ospreys to see if I could find something colourful, a bit different from blue and brown coats faced red or buff. Mollo has a picture of a field officer of Sargents' Regiment and green faced black coats fitted the bill. With this dark green uniform I thought that the figures could even double-up as Tory militia in the south. Therefore, for the flag I needed something fairly neutral that wouldn't scream out "rebels", certainly nothing with stars 'n bars. At Salute last year I picked up several flags from Flag Dude (sold by TM Terrain in the UK) which featured designs I hadn't seen before. This is one of them, featuring a legend "An Appeal to Heaven". Loyalists can appeal to God just as well as Patriots, so this one seemed suitable.
20 figures. Painted January 2008. Flag by Flag Dude. Cornfield by Touching History.