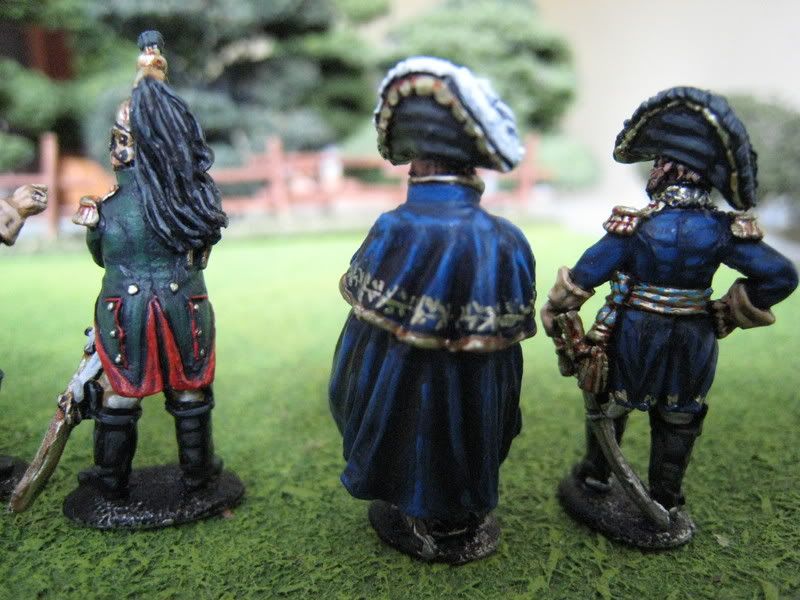 Whilst I labour away at the Belgian 6th Hussars I am continuing to work on the latest Perry 1815 French command packs. Here are a couple of pictures of the latest batch to fall off the painting desk (undercoated on Sunday night, finished at 11pm on Tuesday, photographed at 7.30am Wednesday morning!). There are two generals, one a general de brigade (with the blue-woven sash and black feathers) and the other a general de division (with the red-woven sash and white feathers). The oak-leaves patterning on the general de division's caped cloak is based on a painting of General Jean Marchand in the Osprey "Napoleon's Commanders (2)" (again, this book is invaluable reference for anyone painting the new Perry staff packs, as many of the figures seem to have been directly modelled on illustrations n the book). Marchand was promoted general de division in December 1805 and led the 1st Division of Ney's VI Corps in Spain and then the 25th Division of III Corps in Russia.
The other figures are an officer from the Empress Dragoons and another general de brigade based on a painting on General Louis Chouard in "Napoleon's Commanders (2)". Upon his appointment as general in 1811, Chouard led the 2nd Carabinier Brigade; his uniform is essentially that of a general de brigade but cut to resemble that of the Carabiniers and with that regiment's copper cuirass and helmet (the Osprey states that the black plume might be designed to resemble the black feathers of a general de brigade's hat; normally Carabinier plumes would be red). Chouard wasn't actually present at Waterloo - he was in charge of a cavalry brigade in the Army of the Moselle (and by 1815 had transferred to the Empress Dragoons).
As with my other staff figures, I have not quite decided how to base them, although I'm tempted to place the two generals in a vignette representing General Foy, commander of 9th Division of Reille's II Corps, together with one of his brigade commanders. Perry don't make (as yet) a specific Foy figure and I will need him for both Quatre Bras and Waterloo. At the Salute game, this base will just join the throng milling behind Napoleon and his marshals.
UPDATE: I've just realised that there is in fact a General Foy personality figure in the Perry 1815 French range. I have no idea what to do with these generals now...